My Mom's 5-Step Cleaning Routine is Thorough, But it Keeps My Kitchen Spotless Every Day
We independently select these products—if you buy from one of our links, we may earn a commission. All prices were accurate at the time of publishing.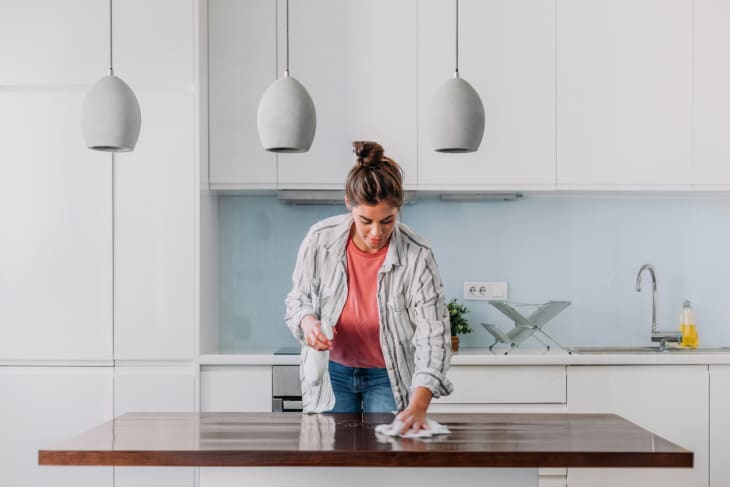 In college one morning, after Saturday brunch at a family friend's home, I was helping out in the kitchen and doing what I'd been taught to do. The methodical steps drilled into me by my mother were so rote that they'd become second nature, even for a nineteen-year-old. I didn't think anything of it until our family friend said, "Wow, your mom really taught you how to clean a kitchen!"
Eleven years later, I still clean my own kitchen the very same way—and I'm teaching my kids to do it, too. 
Here is my mom's tried-and-true 5-step kitchen-cleaning plan:
This may seem obvious, but the key is doing it all at once. Stack dirty dishes by the sink or dishwasher and put away everything that belongs in the fridge or pantry.
Don't forget to wipe condiment rims before replacing lids and make sure each bottle and container is clean before putting them away. Give each item a quick wipe with a damp rag.
Finish by wiping the table down. Don't just swirl the rag around where you see dirty areas; you're sure to miss some. Methodically clean so you get the entire surface of the table.
Tackle your dirty dishes by loading any and all dishwasher-safe items in the dishwasher. You do not, I repeat, do not have to pre-wash, but you do have to remove bigs chunks of food. You don't want to leave anything on the dishes that will "bake on" in the dishwasher. Also: Don't load anything in such a way that it will block the water spouts from reaching other dishes. 
Next, hand wash any remaining dishes. That includes all knives, anything plastic, pots and pans, and delicate or special items like heirloom serveware. Use water that's as hot as you can stand. Set them on your dish drainer and let the air do the work.
3. Clean your stove top and wipe down your counters.
Now that your counter is clear, it's time to clean your kitchen surfaces. Clean your stove top if you used it. No shortcuts or workarounds! Remove grates on gas ranges, eliminate every single little crumb, and then wipe it all down. Next, wipe down countertops. The same rules apply to your counters as to your table. Don't just wipe down the obviously dirty spots. Be methodical and clean the entire surface.
Empty out the sink strainer and drain cover of any food. Grab whatever cleanser you prefer (I now use Bar Keeper's Friend) and sprinkle the sink. Scrub with a scrubbie that you use exclusively for cleaning out the sink. Rinse well. 
This is the final step of cleaning the kitchen. A clean and empty bag in the trash can is the finishing touch on a kitchen that's been made fresh and clean for the next day.