6 Important Things Everyone Needs to Know About Mortgage Rates This Winter
We
independently
select these products—if you buy from one of our links, we may earn a commission. All prices were accurate at the time of publishing.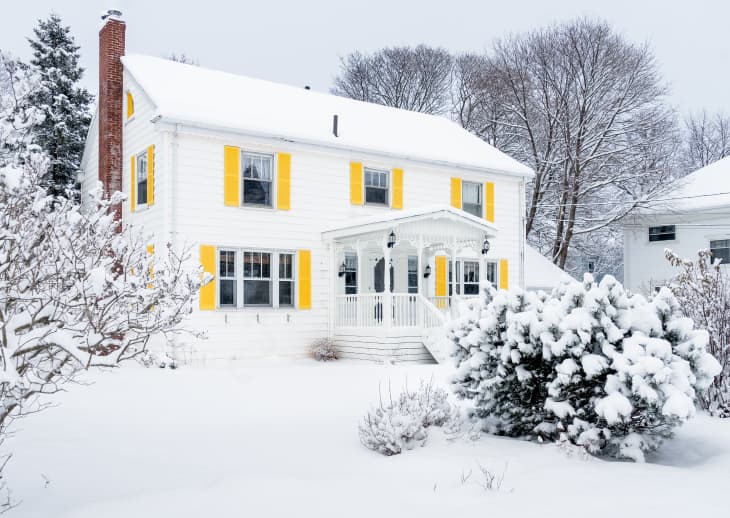 As temperatures drop, mortgage rates have continued to inch up, prompting a lot of trepidation about what this winter may have in store for people's finances. Nobody can predict the future, but according to the mortgage experts I spoke to, there are a few things everyone should expect to see happening in the market as Old Man Winter takes up residence. Here's what to know.
Things will be slow to stabilize.
Nicole Rueth, senior vice president at The Rueth Team powered by OneTrust Home Loans, says she expects to see continued volatility as rates slowly drop into the low to mid 5 percent range heading into 2023. "In anticipation of the 0.5 percent Fed rate hike expected by Dec. 14, we will see PCE [adjust] on Dec. 1 and CPI on Dec. 13," she says of the Personal Consumption Expenditures and the Consumer Price Index, which are used to track inflation.
Rueth says that if both of those continue to show softening inflation, the Fed may lower their next bumps to 0.25 percent during their first two sit downs of 2023.
It will be a good time (for some people) to buy.
With rates trending upward, you may not expect to hear experts touting the benefit of a home purchase, but buying is exactly what Rueth said some people should be doing. She says people with stable jobs and money in reserves may make out in this changing market. 
"Buyer demand is overall lower, giving current buyers an opportunity to get a reduced price, inspection items repaired, and a seller credit to buy down the rate," she explains, adding that the slowing rate of inflation will make it easier for people to buy down their rates this winter.
This winter's buyers may never need to refi.
Obviously she can't promise that rates will never drop back down to the historic lows we saw in over the past two years, but Rueth says that people who are purchasing a new home over the next few months may get a good enough deal that they'll avoid needing to refinance over the life of their loan. 
A market correction could mean good news for some.
You've likely heard the term "market correction" thrown around a lot lately — it's a finance term used to describe the stock market drops between 10 and 20 percent over a sustained period of time — and while that may sound like a scary thing, it's actually good news for people who have been waiting for the right moment to buy or refinance.
Erica Davis, a loan officer, believes that could level off or even drop slightly over the next few months. "This would provide an opportunity for those who have been waiting on the sidelines to get a great rate," she says.
Your personal budget matters more than what the Fed says.
A lot of people are going to say that now is a terrible time to buy because of the uncertainty surrounding a possible recession, but Davis says people need to look more at their own budget when it comes to timing interest rates. "If you can purchase a home today, you start creating your own wealth and not contributing to someone else's," she says.
As with most things, what goes up must come down, which is why Sarah Alvarez, vice president of Mortgage Banking at William Raveis Mortgage, says this winter's rates may not stick around long enough to see the next snowfall. "Rates will probably remain elevated through the beginning of the year, but general industry predictions suggest that they should come back down starting in the third quarter of next year."