This Moss "Wallpaper" Is a Low-Maintenance Living Wall
We independently select these products—if you buy from one of our links, we may earn a commission. All prices were accurate at the time of publishing.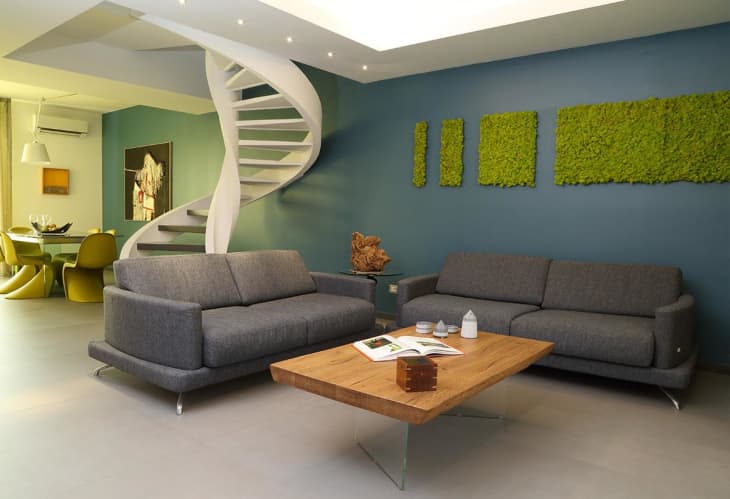 Wallpaper isn't going anywhere, thanks to the cottagecore movement and this Italian-based company is putting a unique twist on the trend. Benetti Home is crafting low-maintenance green walls — basically moss wallpaper. Plant parents, eat your hearts out.
Dubbed Benetti Moss, the installations are made with 100 percent natural and stabilized lichen moss, native to Northern Europe, and are completely customizable thanks to the lichen's ability to adapt to a range of 12 different hues including pink, orange, blue, and a handful of greens. The moss walls can even be installed on ceilings.
Follow Topics for more like this
Follow for more stories like this
Per Inhabitat, Benetti notes that the lichen walls do not attract bugs or dust, nor do they require much maintenance. The installations are also a great alternative to traditional sound-proofing design elements. In fact, Benetti recently launched a new venture called Benetti Sound that incorporates sound systems into the vertical garden installations. 
The company promises it will be able to work the moss into any design imaginable—from logos to lighting fixtures, floating ceiling art to rounded columns. If there's a blank surface, Benetti moss can adhere to it.
The only maintenance required for the moss is to keep an eye on the humidity levels in the room in which it's installed. According to the Benetti website, the moss does not like is either too much or too little water. Luckily, the company makes a specialized spray that can be spritzed onto the lichen every six to eight months to keep humidity levels within the installation where they need to be.
Despite being based in Italy, Benetti Home has a U.S. contact for your mossy interior design needs. So, if you have a thing for plants and wallpaper, the best of both worlds has arrived.