These Are the Most Popular Infomercial Products by State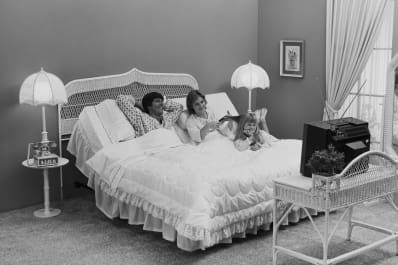 (Image credit: Tom Kelley Archive/Getty Images)
Do you live in Proactiv or P90X territory? Are your neighbors still buying Shake Weights and ThighMasters? Google Trends has seen us in our Snuggies (30 million sold, and counting) and snooped into our purchasing data to find the definitive answers.
Skipping commercials altogether on the regular by streaming your favorite shows and movies may have you thinking infomercial products are a thing of the past, but oh no—we Americans are still buying Ped Eggs and Nutrisystem shakes, George Foreman Grills and Bowflex machines, and by the millions.
Using Google Trends data, analysts at AT&T Savings ranked our purchases to figure out which late-night retail pitch grabs us the most by region. We're talking Pajama Jeans, Shamwows, Grab Its—all the world's most ridiculous single-use products and gadgets, compiled into a colorful map for your browsing pleasure.
And the team at AT&T Savings had some fun with the burns after the results, too:
"States from Connecticut to Colorado are getting toned with P90X, pretending to workout with a Shake Weight (yeah we see you, Arkansas and West Virginia), or eating barely passable diet meals with Nutrisystem (a company that happens to be worth 1.6 billion)."
Here's the breakdown by state:
Alabama: George Foreman Grill
Alaska: Magic Bullet
Arizona: Cami Secret
Arkansas: Shake Weight
California: Proactiv
Colorado: P90X
Connecticut: Nutrisystem
Delaware: Snuggie
District of Columbia: OxiClean
Florida: Slice-o-matic
Georgia: Night View Glasses
Hawaii: OxiClean
Idaho: P90X
Illinois: ThighMaster
Indiana: Sticky Buddy
Iowa: Sticky Buddy
Kansas: Ahh Bra
Kentucky: P90X
Louisiana: Potato Express
Maine: Shamwow
Maryland: Night View Glasses
Massachusetts: Showtime Rotisserie
Michigan: Grab It
Minnesota: Bowl Light
Mississippi: Proactiv
Missouri: Ped Egg
Montana: P90X
Nebraska: P90X
Nevada: Proactiv
New Hampshire: My Pillow
New Jersey: Nutrisystem
New Mexico: Proactiv
New York: Aluma wallet
North Carolina: Sani Sticks
North Dakota: George Foreman Grill
Ohio: Ped Egg
Oklahoma: Proactiv
Oregon: Proactiv
Pennsylvania: Grab It
Rhode Island: Magic Bullet
South Carolina: Sticky Buddy
South Dakota: Total Gym
Tennessee: Proactiv
Texas: Proactiv
Utah: P90X
Vermont: Pajama Jeans
Virginia: Sani Sticks
Washington: ThighMaster
West Virginia: Shake Weight
Wisconsin: P90X
Wyoming: Bowflex
Wondering where people even find some of these products nowadays? (I'm looking at you, Bumpits.) The As Seen on TV store has a product list of pretty much every infomercial product ever pitched on air, with links to where to buy them. Though the majority of them seem to find their way to Goodwill, brand new in the box, so maybe check there first.