Mr. Christmas On the Best (Untraditional) Color For Your Tree, Plus 5 Other Holiday Decorating Ideas
We
independently
select these products—if you buy from one of our links, we may earn a commission. All prices were accurate at the time of publishing.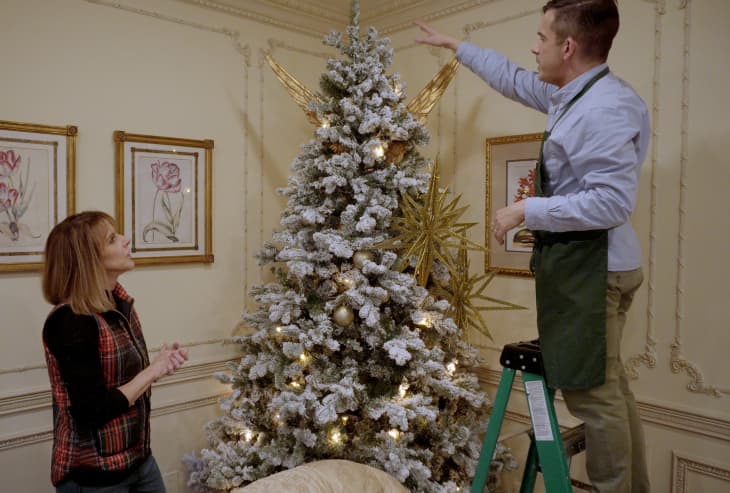 While some already have their tree strung with lights, garnished in ornaments, and topped with a star, others are just getting around to taking decoration bins out of hibernation. But no matter where you are in the Christmas tree decorating process, there's always room for more—even if you think it's impossible to squeeze one more ornament. And interior designer Benjamin Bradley, who seasonally goes by Mr. Christmas, is here to help with ideas that will make your spruce next level.
Mr. Christmas, who just released a new show on Netflix called "Holiday Home Makeover," has plenty of insight on what's unique and trending in the holiday tree decorating realm—from how to infuse scents into your tree to what color palettes are trending. But no matter how you dress your tree, he emphasizes that this year, do what makes you feel best and forget the rest.
"This year, since we're not gathering with anybody, I'm not being so perfectionist about [decorating my tree]," Bradley told Apartment Therapy. "I'm doing what feels good and makes me happy, not what other might think or if I'm doing it right or different enough. I'm enjoying the process."
We got to (virtually) sit down with Mr. Christmas and find out the one-of-a-kind ways he decorates his own tree as well as this year's trends. Grab a cup of hot cocoa, your best snowflake writing pad (or, you know, a Google Doc), and let's get to it.
Recreate "The Nutcracker"
Whether it's for clients or his own tree, Mr. Christmas loves bringing "The Nutcracker" to life on his branches because of its regality. Adorn your tree with nutcrackers and toy soldier ornaments, and throw in as many mini instruments like trumpets, drums, and horns as you please. As an extra special touch, tuck flags into the tree and spread them out on display. "It's kind of a Victorian thing to do," Bradley said.
When in doubt color-wise, go with Tiffany Blue. Bradley noticed that the popular shade of blue is leading in 2020 Christmas design, and since it already works well in interiors, he says to go full speed ahead with making it your whole tree look. You can get an artificial tree that's straight-up blue, or if you're focusing more on the decorations, he suggests getting a blue spruce or silver tree to hang them on.
Let it snow (on your tree)
While snow-themed tree displays have always been popular, Bradley said that it spiked after "Frozen" and "Frozen II" came into the world. Sprinkle fake snow or cotton balls around the base of the tree to create a winter wonderland, frost the branches using spray paint, or incorporate blue or icy tones into the ornaments, lighting, and topper on the tree.
Use ingredients to evoke scents
Instead of basing your decorations strictly off of sight, Mr. Christmas suggests using kitchen staples around your home to create a sense of smell. "I always like the sights, the sounds, and the smells of Christmas, and I don't think there's any more evocative than the scents," Bradley said.
For ornaments, you can add citrus by studding oranges with whole cloves to make a pomander that you can hang as an ornament. Another idea is making a lightweight dough out of apple sauce and cinnamon, then cookie cutters to make festive shapes and let them air dry. For garlands, if you like the sweet smell of apples, slice a few up and and dry them in the oven, then string them together. You can also drill holes in cinnamon sticks and string them with cranberries to wrap your tree with.
Or, make the whole tree theme baking-related
If you're already planning on baking some apples from the tip above, you could just go all out with a baking theme while you're at it. Mr. Christmas says that this theme is "a really fun way to look around and see what you have as well as it gives an unbelievable scent at the same time." He suggests hanging cookie cutters and, if your tree branches can hold larger objects, baking tools like rolling pins for ornaments.
But there's truly no right or wrong way to execute a baking-themed tree—just look around your kitchen and see what you have. Use your plaid kitchen towels to tie a bow at the top of the tree, or loop some copper measuring cups with string and hang them as ornaments.
According to Mr. Christmas, the traditional green and red color combination is back in style, but in a nontraditional way. "In the last couple of years, the lime green and Christmas red have been really popular, which is kind of a new take on that traditional color scheme," Bradley said. "That lime green really gives a pop, which I think is really nice."
There are many ways you can bring the lime green and red color scheme to life. The simple route is to dress your tree in bright red ornaments, and make the tree skirt or topper a lime green. Since Christmas trees are traditionally green, you can also get a white tree so the lime green and red really pop against the neutral.
What's your favorite way to dress your holiday tree? Let us know in the comments below!