6 Holiday Decorating Ideas That Take Up No Floor Space, According to Mr. Christmas
We independently select these products—if you buy from one of our links, we may earn a commission. All prices were accurate at the time of publishing.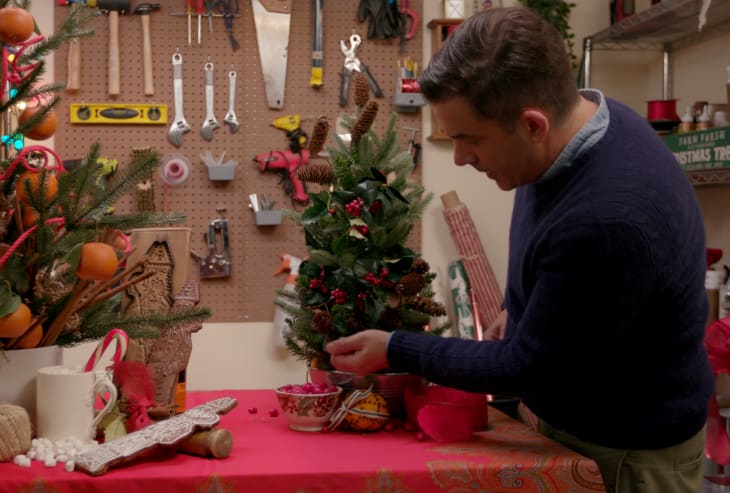 If you find that there's just no room in your small apartment for holiday cheer, there's some good news. Benjamin Bennett aka Mr. Christmas in Netflix's "Holiday Home Makeover with Mr. Christmas" has plenty of holiday decorating tips that take up zero square footage.
Follow Topics for more like this
Follow for more stories like this
From using your empty wall space for a DIY tree to creating a canopy with ribbon from all corners of the room, Mr. Christmas has a sleigh full of Christmas decorating ideas for tiny living areas. Expect to see your small space in a whole new light (perhaps literally) after getting through all these tips and tricks.
Embrace the tabletop tree
Just because your apartment can't comfortably accommodate an 8 foot spruce doesn't mean you can't have a holiday tree at all. As a matter of fact, small space or not, Mr. Christmas is a big fan of bringing back the tabletop tree trend.
"I love them on kitchen counters, I love them on side tables. Find a 5 foot tree and put it on the table—it leaves all your floor space below to display presents, and you feel like you've gotten a tree, which I feel is really important," Bennett told Apartment Therapy.
Create a "sentimental tree" on the wall
Recreate the sensation of a tree by using meaningful items to create the shape of one on a vacant wall. If you have them, Mr. Christmas suggested hanging vintage Christmas albums on your wall in the shape of the tree. And that's only the beginning: CDs, floppy disks, cassettes (okay, maybe too heavy, but nothing is stopping you from trying) galore!
Bennett also mentioned that you can arrange a bunch of family photos onto the wall, creating a family tree, scrapbook, and holiday-inspired "tree" all in one decoration.
Use garlands anywhere and everywhere
Another alternative to a Christmas tree is using garland around your home—from the kitchen window to the countertops and all the door frames. You can still get that pine smell without worrying about sizing and placement, and it can also be decorated with all the holiday tree fixings.
"It's wonderful what you can put on a garland: lights, ribbons… if you have a collection or ornaments that you love, put that on your garland to highlight them," Bennett said. "Any time I take the garland down after the holidays, it's so sad because it gives me extra light there—it's so joyful."
Wrap your wall decor like a present
Dressing up your existing wall art and decorative pieces is an easy way to use what you already have to spruce up your space for the holidays. For example, Mr. Christmas suggests wrapping your mirror or artwork with a large bow. Or take it to the kitchen, like Studio DIY, and wrap your cabinets.
Dress your ceiling features
Just like wall space, you can maximize your ceiling area by hanging decorations on features that already exist, like exposed beams or light fixtures. You can hang evergreen, ribbon, ornaments, and more, and since light fixtures tend to be in the center of the room, you won't have to worry about making sure they're front and center.
"[A light fixture] typically hangs in an area of prominence in your apartment, so it's totally festive, it's a focal point, and it doesn't take up ay more floor space than what I had previously," Bennet explained. And that's what we call a holiday miracle.
Mr. Christmas suggested that instead of dressing a tree or garland, you can simply drape your ceiling to make your whole space a festive explosion. "Hang lights or ribbons or greenery from the four corners into the center of the room and create a canopy," Bennett said. "It takes a little more effort, but it has a huge impact and it's great fun and it doesn't take anymore floor space."
Do you have any other space-saving decoration ideas for the holidays? Let us know in the comments below!