The Time-Honored Benefits of Multigenerational Living
We independently select these products—if you buy from one of our links, we may earn a commission. All prices were accurate at the time of publishing.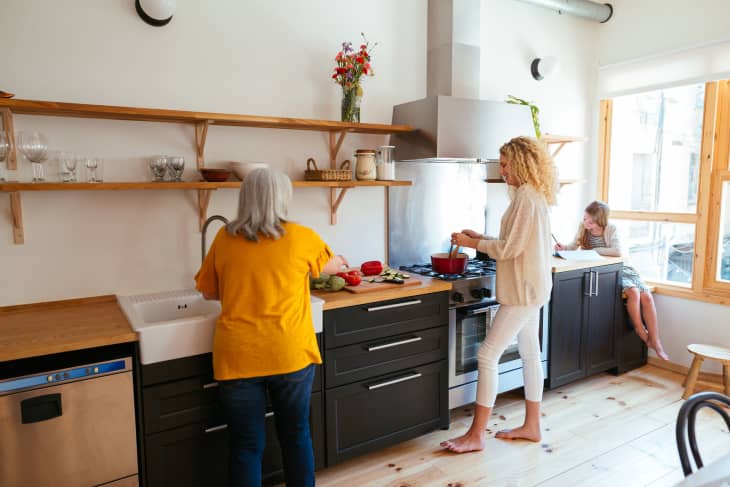 Growing up, few members of my extended family lived outside my hometown, which meant we saw each other a lot. As we've ventured to new cities, welcoming partners and children into the fold along the way, it's become difficult to find time together. That's why I look forward to our annual holiday celebrations. It's not that my cousins conjure warm, fuzzy memories of bygone Christmases; rather, it's the opposite. My cousins are agents of chaos, and I love them.
I'm already preparing myself for a rare but critical socially-distant holiday without our typical Christmas Eve shenanigans (Cody mixing white wine and Mountain Dew to produce "Winetain Dew"; Brad passing around an X-rated screenshot of an adult film in which he discovered the "male lead" is his doppelganger; drinking grasshoppers and drunkenly choreographing the annual family picture.) We are the perfectly abnormal spawns of our equally bizarre and loving parents, whose own shared childhood I've begun to appreciate more than ever.
In Rockford, Illinois, in the 1950s, my dad, his sister, and his cousin grew up under the same roof, right next door to their grandmother. Their neighborhood was a working-class community populated with Italian families and teeming with kids. The fabric of their neighborhood allowed for more fluid parenting, ample mutual aid, and community. So while I'm bracing myself for this year's inevitable Zoom celebration, I wish my cousins and I were all huddled up in the same bubble together, sharing a household like our parents did. I tested our family's Zoom capabilities recently to chat with my dad, Rockford-based Apartment Therapy superfan Stewart Magnuson, and his cousin, Santa Fe-based Laurie Bennett, to hear their recollections of growing up under one roof in an era that seems all-too-impossible now. 
My dad, his sister Nancy, and their parents shared a home with my Aunt Laurie and her parents. The home was owned by their grandmother (my great-grandmother), who lived right next door. With their parents working multiple jobs, child-rearing was a group effort by the neighborhood's adults. This equal parts "all hands on deck" and "hands-off" approach to childcare may seem unfathomable to some, but says my dad, "If you don't know anything else, it just seems normal." Multigenerational households composed the neighborhood, which my dad proved by naming off several very Italian surnames who all lived the same way. After their parents would head to work, the kids of the neighborhood just kind of did whatever they wanted. If they needed anything, they'd pop into a neighbor's home—often without even knocking—to politely request and receive what they needed. 
In fact, intergenerational living notched a spot on Zillow's recently released list of home trends for 2021. In the report, Katie Detwiler, the chief experience officer at Berks Homes, says she's seeing intergenerational living trends in new construction homes, with more requests than ever before for a finished basement with a full bathroom and bedroom additions.
I asked my dad and Aunt Laurie how their household might have navigated our current pandemic, and their answer surprised me. During a scarlet fever epidemic in the early 1950s, Laurie's mother, a member of their shared household, contracted the illness. While penicillin had been used to treat the disease since the 1940s, the suffering inflicted by scarlet fever was extensive—especially among children—thus forcing my aunt to quarantine away from the kids. This required a little shuffling around, with Laurie's mother moving into their grandmother's house next door. 
"Grandma sealed off the staircase and she was the only person who went up there, and they used to actually pull her meals up through the window," Laurie recounts.
During the convalescence, the children were sent next door to a neighbor's house to live for a couple of weeks. (This truly shocked me, a person whose familiarity with her neighbors begins and ends with Gnocchi, the corgi at the end of the hall.)
The proximity to dedicated family members who could share in the child supervision, household maintenance, and matters of everyday life served every generation. Not only did children receive nurturing and guidance, but parents working multiple jobs could lean on one another.
Given the major economic challenges countless households are facing right now, not to mention the shuttering of so many social and cultural institutions we're unable to access, now is the time to consider whether this type of living is just what we need to see ourselves through the pandemic—and beyond. 
Historically, multigenerational households declined significantly after 1940, in part due to the population's shift from urban centers to suburbs, economic prosperity post-World War II, and better health and financial outcomes for older Americans. While not every family is willing to sacrifice the privacy and freedom of single-family homes, those struggling financially or those feeling cut off from their communities may find multigenerational homes appealing.
Currently, families are isolated and struggling. I find myself marveling at how much easier sheltering in place would be if more of our household bubbles included our parents, siblings, aunts, uncles, cousins, and grandparents. My dad and Laurie cherished that free-spirited sense of community. 
"I actually felt sorry for my friends who lived [in other neighborhoods] because they didn't have some place to go," Laurie says. My dad's family was fortunate to have everything they needed, and it didn't matter whose kitchen their dinner came from or how many uncles were in line to use the bathtub. Simplicity and community were what mattered—not being the Joneses everyone kept up with. Put simply by Laurie? "Life was good."