People Helping People During the Pandemic: How You Can Find or Start a Mutual Aid Group
We
independently
select these products—if you buy from one of our links, we may earn a commission. All prices were accurate at the time of publishing.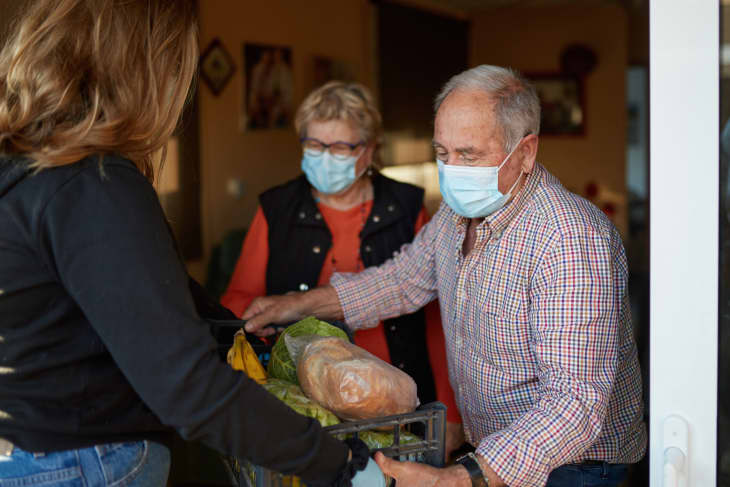 Maryam Shariat was planning on heading out on a family vacation with her husband Ross and 7-year-old step-daughter back in March. Then, COVID-19 hit. While her step-daughter was devastated, Shariat knew it would be important to dedicate the time they would have been on vacation to an important cause. 
"Both Ross and I knew we couldn't sit idly at home. We'd go crazy," says Shariat. "So we talked about it and said, because we're going to be here, it becomes our responsibility to take care of other people."
The couple printed 500 fliers at Staples and distributed them around their Queens neighborhood. It was then that the Astoria Mutual Aid Network was born. 
"Before the end of the day, we had twenty volunteers call us and say 'how can we help?'" says Shariat. Just a couple months later, the AMAN now has almost 900 volunteers, has completed over 1,000 errands, and has provided direct assistance to over 500 households in their diverse Queens neighborhood. 
What is a mutual aid group?
 In its most straightforward definition, mutual aid is the reciprocal exchange of resources and services. It's a practice of putting things in the hands of people who need it, especially in situations where normal methods of attaining these goods and services is compromised.
"For us, it was literally what it sounds like: helping each other. We wanted to be available to our neighbors," says Shariat. "The concept of mutual aid is making use of the privilege we have to help those in our community that don't have that privilege."
The roots of mutual aid stem back way beyond the current pandemic. In fact, the concept was first popularized by anarchist philosopher Peter Kropotkin in his book, "Mutual Aid: A Factor of Evolution."
"Mutual aid is literally centuries old," says Shariat. "It's an anarchist principle that believes that the only help we need is from each other, and that everyone has something to contribute."
In New York City, lots of mutual aid organizers were already familiar with each other due to their mobilization efforts after both 9/11 and Hurricane Sandy. 
"Basically anytime there's a disaster, it sort of flares up and becomes more salient to people, but there are mutual aid groups that assist every day of the year, and are there with the intention of building those community connections so when something like this happens, it's not like you're starting from scratch," says Shariat. 
What help does a mutual aid group provide?
The types of things people request from mutual groups can vary. During the COVID-19 pandemic, food is the most commonly requested item.
"There's a ton of food requests," says Shariat. "It's a lot of people who are out of work who don't have the money to go to the grocery store." The AMAN uses a dispatcher to either find someone who is willing to pay for the food and deliver it to the requester's home, or partners with non-profits or businesses like local food pantries or bulk buying grocery programs to get the items to the person in need. And while food is a common request, it's just the beginning of things for which people need assistance. 
"There's a lot of like, I need to access unemployment and I haven't heard back, I don't have a computer. We get on the phone with people and fill out the application for them on the phone," says Shariat. 
Another popular request is assistance with transportation to essential medical appointments so people can avoid taking public transit during the pandemic. 
"One of the first calls I ever got was this really sweet woman who was just diagnosed with breast cancer, and has to go to chemo once or twice a week," said Shariat, who added that the woman was terrified at the idea of riding the train. "We have a few times a week when people who call us who have chronic conditions and need to go tot he doctor that we just book a car for they don't have to worry about the expense."
As the pandemic has stretched on, more and more requests have been for housing assistance. 
"People say, 'what do I do if I haven't worked in two-and-a-half months? I can't pay my rent'," says Shariat, who helps to connect them with exiting non-profit organizations and elected officials. 
How do I find or start a mutual aid group?
If you're looking to find your local mutual aid network, the best way to find an organization is to Google your community name with "mutual aid." A quick browse of Facebook or Twitter can also be a great resource. Also, don't hesitate to contact your local officials, who should be aware of these organizations and can direct you to their source. In larger cities like New York, you can use citywide lists like mutual aid.nyc, or even national ones like mutualaidhub.org.
If you would like to start your own mutual aid network, just remember that each small act you do for a neighbor is a valuable beginning. 
"When we started, we just thought we'd be doing grocery and pharmacy for neighbors," says Shariat. "I think that most important thing is to start where you are, and not get ahead of yourself." Whether it's knocking on doors in your apartment building or offering to weed the garden for an elderly neighbor, it's still an important start. 
"Every little kindness we do and outreach supports someone else and frees up more capacity for them individually," says Shariat. "In reality, there's never an end to the need, so everything you do is helpful."
What part will mutual aid groups play in the future?
While the need for mutual aid groups has exploded during the pandemic, it's not clear what will happen in the future. But if there's one thing that's obvious, it's that there will always be people in need. As the country begins to reopen, mutual aid networks will continue to work and evolve by figuring out how to support the organizations that do this relief work day in and day out.
"The needs of people who are housing and food insecure, financially insecure are not gonna go away," says Shariat. "When someone says 'I need groceries,' how do we not just get them groceries, but try and understand why is it that they need groceries every week? What are the other resources and support they may be eligible for or afraid to ask for or not know about?"