I Finally Found the Ultimate Cooling Sheets for Hot Sleepers — and They're 20% Off Right Now
We
independently
select these products—if you buy from one of our links, we may earn a commission. All prices were accurate at the time of publishing.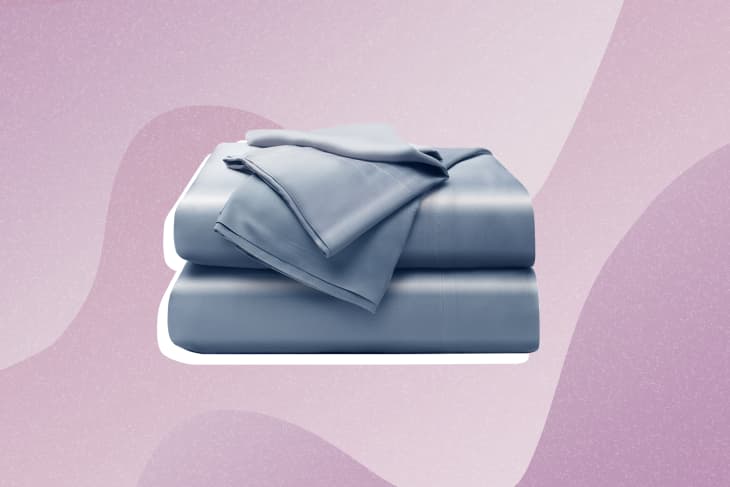 For as long as I can remember, I've been a hot sleeper. In fact, I have vivid memories from childhood of waking up in a hot sweat, wrapped up in my "Powerpuff Girls" bedding — this has been going on for a while. So, when it comes to cooling bedding, you bet I've tried it all. From breathable cotton and linen options to the silk sets guaranteed to make me a believer, I began to accept the fact that I would never find the perfect bed linens. That is, however, until I tried the first sheets to impress me in a very long time: "The Regulator" sheets from My Sheets Rock. And you can snag a set on sale for Black Friday.
Made from high-grade, sustainably sourced Oeko-Tex-certified bamboo rayon, these sheets boast eight heat-fighting benefits, including breathable construction, moisture-wicking technology, and a lightweight feel that won't weigh you down. The feature that really sold me on them, however, was the added temperature-regulating design, meaning I could count on these sheets to keep my body at a consistently comfortable temperature, whether I was sleeping through a heatwave or a nor'easter!
The second I unfurled these sheets, I knew I was dealing with something different. I'm going to be upfront: These sheets are quite literally one of the softest sets I've ever felt. They seem to combine the positive traits of two other beloved textiles: the smoothness of silk (sans the slip) and the lightweight, classic design of cotton. And I'm happy to report that, yes, these sheets do, in fact, rock! To really put them to the test, I slept in a long-sleeved pajama set with my hair down (something I never do, because who wants to sweat and mess up a good blowout?). Not only did I sleep soundly and comfortably, but I also woke up sweat-free and without a hair out of place. It's safe to say I've finally found the perfect sheets for me.
Starting at $139 for twin size ($169 for queen), each sheet set comes with two pillowcases, a flat sheet, and a fitted sheet available in 10 inviting colors (including their latest releases, Dusk and Turquoise) that are a mix of neutral and bold hues. If you're not completely in love with these sheets within 90 days, you can send them back for a full refund. Even better? From now through Nov. 29, you can save 20 percent when you use code EPIC at checkout. You can bet I'll be adding more colors to my collection!