Nadia Geller's Downtown Design Studio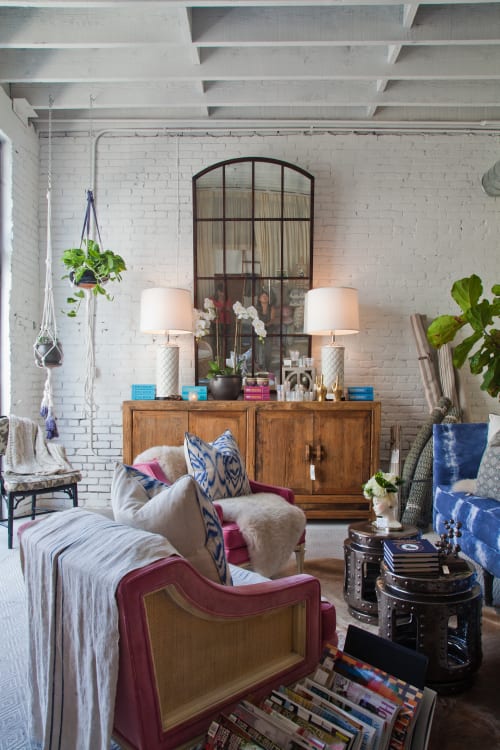 Name: Nadia Geller Designs / Studio & Market
Location: Arts District- Los Angeles, CA
Size: 1,000 square feet
Years lived in:4 months- rent
Nadia Geller Designs is an established award winning design firm, specializing in residential and commercial spaces. Opening a brand new storefront that doubles as a formal design office, Geller believes "It takes a village to make life beautiful." From small accessories, custom upholstery, to beautiful lighting, and furniture, this full service design company offers everything your heart or home could desire.
Nadia, who now employs a full group of associates, began her design career in NY at ABC Carpet and Home. Building her creative license in the world of visual merchandising, she later on went to work in television designing and hosting for programs such as "Trading Spaces" and "While You Were Out" on the TLC channel. After several years in NY, Nadia moved to California where she now resides with her family. Bringing an actual store front to her office was good leap toward expanding and also joining the other great shops of the downtown LA Arts District. "I moved here from Williamsburg, Brooklyn about 7 years ago. As most implant NYC folks are at first, I was a bit hesitant about the design scene here in LA. I am in love with Southern California. The diversity of style that is influenced by a shining sun and nature is beyond inspiring."
One definite belief she maintains in regards to designing a home is "Confidence in editing."
Apartment Therapy Survey:
My Style: Collected, Fun, Approachable, Comfortable and eclectic. We work and design spaces that cater to our client's aesthetics. We also sell a variety of items like upholstery, vintage pieces, artwork, lighting, candles, pillows and other accoutrements for your home. I want anyone decorating their home or purchasing a gift for a friend to find something they love.
Inspiration: Parisian Flea Markets, NYC boutiques, my favorite living rooms of friends where you are so comfortable you never want to leave.
Favorite Element: I am in love with the hand tie-dyed tufted sofa I designed. We can make any style of sofa and we will custom dye fabric to create one-of-a kind for a budget friendly price.
Biggest Challenge: Fitting a staff of 8 into a working studio and creating a market! We are a happy and busy fishbowl.
Proudest DIY: I love our art wall. We used picture rail, hooks and cord-covered wire to hang all our artwork up. It looks great and we can easily take pieces down to show clients and shoppers.
Biggest Indulgence: We carry a lot of furniture lines, but I love the cabinetry and shelving we use for our sample library from Noir.
Best Advice: Spend money on good quality pieces that are timeless but bold like a great sofa or a piece of artwork. Pinch your pennies on trend pieces like throw pillows.
Dream Sources: My dream sources are Middle America Antique Malls and Flea Markets that haven't been found by folks with good taste.
Resources of Note:
PAINT & COLORS

Decorators White (Walls and Ceiling)
Wallpaper: Nadia Geller Designs; Grass Cloth, Sea Foam/V21025, $70.00 a roll
MARKET

Tie Dye Sofa: NGD Market: $3000.00; Rug: Dash and Albert through NGD market $417.00
Dash and Albert rug; through NGD Market $1208.00
Acid Black Garden Stools: NGD $329.00 each
Reclaimed Sideboard: NGD Market $2000.00
Custom Macrame by Fussy Hussey at NGD Market: $75-100.00
Pendant Light Fixtures: Noir at NGD Market $345.00-$375.00
Alexandra Ferret Pillows (fun words): 75-125.00 NGD market
Throw Pillows By Nadia Geller Designs
Concrete Pilar Table: Noir at NGD Market
Vintage Map Posters: Roost at NGD Market 9.99-14.99
STUDIO

Large Reclaim Tables: Restoration Hardware
Fence Chairs by Chehoma (conference table): NGD Market; $350.00
Custom Macrame by Fussy Hussey at NGD Market: $75.00-100.00
White Task Chairs: Advanced Interior Designs.
9 x12 Tattersal Black and White Cotton Woven Rug: Dash and Albert at NGD Market
Black Colonial Hutch and Shelving by Noir at NGD Market: Call for Pricing
Thanks to everyone at Nadia Geller Designs! Also a huge thank you to Leslie Landis for the wonderful introduction.
(Images: Bethany Nauert)
• HOUSE TOUR ARCHIVE: Check out past house tours here.
• Interested in sharing your home with Apartment Therapy? Contact the editors through our House Tour Submission Form.
• Are you a designer/architect/decorator interested in sharing a residential project with Apartment Therapy readers? Contact the editors through our Professional Submission Form.