Nadia's Tropical Paradise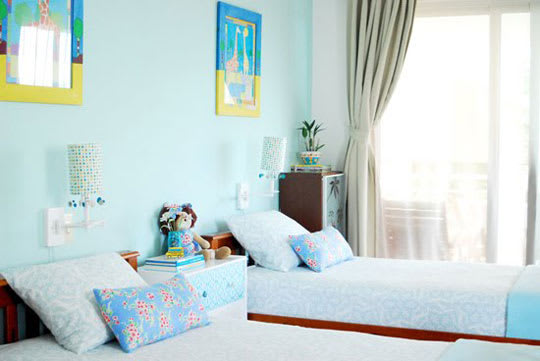 Name: Nadia (5)
Location: Punta Cana, Dominican Republic
Room size: 230 sqf. (excluding the en-suite bathroom)
A visual trip to Nadia's bright, beautiful room will leave you feeling refreshed and invigorated without having to pack your bags or board a plane. Her mother Clara revitalized a fairly ordinary (bordering on blah) room into this cheerful space that matches the family's tropical environs. Clara had more time than money on her hands so her allies were lots of paint, elbow grease and her own crafty ingenuity. Read on for our interview and to take the tour.
What was the inspiration for this makeover? Our tropical surroundings and Nadia's cultural heritage (Dominican and Danish)
Did your daughter collaborate with you on it? Absolutely. It was her bedroom after all. She helped me do some things, and I helped her do some projects too.
What was the biggest challenge decorating this room? There were a few, most importantly the many doors I had to paint (the closet has 14, plus the main door and the door to her bathroom.
How long did this makeover take? 3 weeks for the bedroom (I could only dedicate 2-3 hours to it everyday)
What is your favorite element in the room? It's hard to decide, but if I must it would be her craft/homework area.
What does Nadia think about her room makeover? She absolutely loves it. She loves the colors, she loves how practical everything is (nothing is precious, we did most of it after all).
Tell us about some of the diy projects here. Wow! Where to start? For her bedroom we painted the main wall blue, and all the wood was painted white. I sewed pillows for her bed and a cushion for her desk chair. I refinished her bedside table/dresser, made the floor pad under her desk. I made lampshades for the swing-arm lamps and the little lamp on her desk (a salvage piece). I made the mobile on the ceiling, the sign over the door, the bulletin board and a lot of other things in her bathroom. She made the monogramed trash bin almost by herself. Our budget was US$200, and most of it was spent on paint, so I had to get really creative to get things done without going out and buying things.
Do you have any advice for parents who want to embark on a budget-friendly makeover like yours? Get creative, rummage through your house and see what can be repurposed, refinished or reused. Get your child involved, it's their room after all.
If money were no object, what's your dream source: Ahh! I will probably rummage through the Danish flea markets and thrift stores and ship a container full of finds back home. I am an inveterate thrifter.
Resources:
• Curtains and desk: Amazon.
• Beds: eBay
• linen: Martha Stewart collection
• dresser/bedside table: Ikea
Thanks Clara and Nadia! Readers, pay Clara a visit at The Home in Paradise where she shows you how to do some of the projects in Nadia's room (like the heart mobile, paper flowers and street sign) as well as tons of other great home projects. And definitely check out the inspiring makeover of Nadia's bathroom! What is your favorite element in the room? It's hard to decide, but if I must it would be her craft/homework area.
(Images: Clara of The Home in Paradise)
Interested in sharing your child's room with Ohdeedoh? Contact the editors through our
Nursery & Kids Room Submission Form
. In addition to working with some readers to feature full tours, we will also share the best as "My Room" posts on Ohdeedoh — short, quick tours of great rooms.
Apartment Therapy supports our readers with carefully chosen product recommendations to improve life at home. You support us through our independently chosen links, many of which earn us a commission.