Get Your Hands on Stunning National Geographic Prints During Their Earth Day Flash Sale
Here's how you can get your hands on some stunning artwork to put your love for the planet on display in your home or office for all to see: In honor of Earth Day, National Geographic is holding a flash print sale on signed prints taken by 22 of the publication's world-renowned photographers.
The flash sale launched earlier this week and runs through midnight on Earth Day (today), giving customers a chance to select from a collection of breathtaking classic and contemporary images that were curated by the photographers in collaboration with members of the National Geographic creative staff and Sarah Leen, National Geographic Partners' director of photography.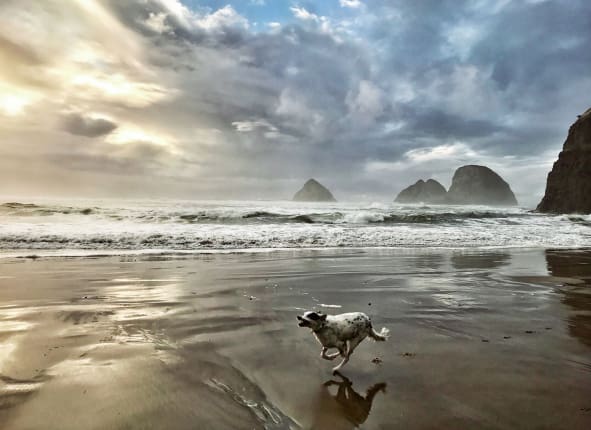 (Image credit: Melissa Farlow courtesy National Geographic)
Among the images are Melissa Farlow's fun picture of a dog happily running on an Oregon beach; Tim Laman's overhead shot of an orangutan climbing an incredibly tall tree in a rainforest; and Paul Nicklen's stunning close-up of an open-mouthed leopard seal swimming in Antarctica that we wish we were brave and skilled enough to snap.
The 9.5" x 9.5" unframed prints show Earth and its unique inhabitants in all of their natural beauty and are priced at $100 each on NGCreativeFlashSale. Any purchases count as a double show of support for the planet's well-being, as 27 percent of the sale's proceeds will go to non-profit National Geographic Society.
Of this photographic Earth-friendly initiative, National Geographic Creative's senior vice president Alice Keating said, "We are offering signed prints from our renowned photographers who have dedicated their lives to raising awareness of our earth and bringing the world to people through their imagery."
And what gorgeous imagery it is. This sounds like a pretty cool way to remind everyone of the vast beauty of our planet and how important it is that we do our best to maintain it. But if owning a photo just doesn't make you feel close enough to the planet, you could always go a step further and adopt a piece of Earth.