Need an Escape? There's a (Tiny, Rotating) Backyard Pod for That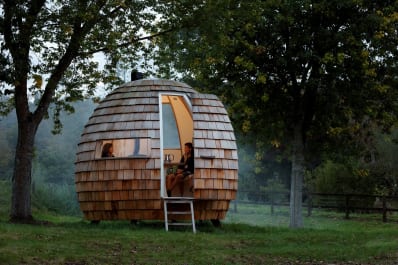 (Image credit: Tim Brotherton)
Not everyone is cut out to be a permanent member of tiny house club. However, the thought of being holed up in one of these cozy rotating "Escape Pods" makes minimalist living that much easier to embrace.
(Image credit: Tim Brotherton)
The diminutive, dome-shaped retreats created by collaborators Dominic Ash and Jeremy Fitter can serve as office space, a meditative hideaway or a remote hangout spot for those moments when you need to recharge with a super low-key getaway.
The design and construction processes for the Escape Pods take place in Gloucestershire, England. The outer appearance of the pods allows for them to blend in with their natural surroundings, easily enhancing their outdoorsy, zen-inducing vibe.
(Image credit: Tim Brotherton)
The pods' ovalesque exterior is shaped by applying CNC milling technology to birch plywood. The shingles are made of cedar wood, while European Oak forms the stairs and beautifully frames the curved windows. The pod is slightly elevated off the ground on a foot and a half high platform, which gives the structure its rotating capabilities. To utilize this feature, owners can simply pull up the stairs used to access the interior, spin the pod in the desired direction, close the plug door behind them, and enjoy their view of choice.
(Image credit: Tim Brotherton)
And here's another cool pod perk: Each house can be customized with various options, including furnishings, window placements, electronics, insulation and heating. The construction process takes place inside a workshop, and the finished pod is delivered and assembled with a forklift or crane.
Interested in making a pad out of a luxury pod? Escape Pods start at $26,000.
h/t Curbed