"The Holiday Calendar," Netflix's Newest Rom Com, Has a Silly Supernatural Twist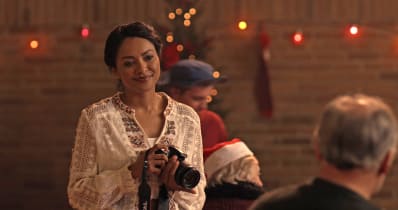 (Image credit: Courtesy of Netflix)
Spoilers ahead for "The Holiday Calendar."
Now that Halloween is over, Netflix is all about turning over to holiday-themed original programming, starting immediately with their new romantic comedy, "The Holiday Calendar." Even though Netflix knows we're all just holding out for the sequel to last year's surprise streaming hit, "A Christmas Prince" (The Royal Wedding, out soon!), "The Holiday Calendar" makes for a fun stand-in while we wait — that is, if you're okay with a supernatural element in your wannabe Lifetime movies.
(Image credit: Courtesy of Netflix)
As "The Holiday Calendar" opens, we meet Abby (Kat Graham), a part-time mall Santa photographer who wants to leave corporate life and make her own art. We then meet Josh (Quincy Brown), her lifelong BFF, who's been traveling the world and photo-documenting it on his blog, even though it is the year 2018 and Instagram exists. Hot Hometown BFF has conveniently moved back home to "settle down" and clearly has his sights set on Starving Artist Photographer Lady!
(Image credit: Brooke Palmer/Netflix)
Back at home with the family, all of whom loudly voice their disappointment in the main character's choice of career, Gramps (Ron Cephas Jones of "This Is Us" fame) gives Starving Artist Photographer Lady an advent calendar. It once belonged to her grandmother and, even though she is not impressed, she takes it home anyway.
But, wait! It turns out it's a ~magical~ advent calendar. Every day she gets a tiny toy, like a pair of boots, a candy cane, or a Christmas tree, and each turns out to be an omen for something that will happen to her later that day. That Christmas tree foretells her meeting Hot Doctor Single Dad (Ethan Peck), a man she coincidentally runs into THREE DAYS IN A ROW, while he's out getting a tree. She later sprains her wrist when she's crushed by a giant candy cane, as prophesied by the candy cane she finds that morning. Who is the doctor who ends up treating her? Hot Doctor Single Dad, of course! This calendar is a pain in the butt.
(Image credit: Courtesy of Netflix)
Hot Doctor Single Dad takes her on a series of elaborate dates and showers her with gifts, including a wreath that is comically large for this single woman's apartment. But, as Starving Artist Photographer Lady laments, they're not really getting to know each other! What do these two extremely attractive people even talk about? We only see their conversation on their first date, where she once again reminds us how disappointed her entire family is that she is an artist, and we learn that Hot Doctor Single Dad is the black sheep of his family because they are all surgeons and he merely owns his own clinic!
Conflict rears its head when she blows off movie plans with Hot Hometown BFF because Hot Doctor Single Dad wants to surprise her. This "surprise" ends up being an unannounced volunteer shift at a soup kitchen, and she misses the movie. This deprives us of time with a new character, Fernando (Rodrigo Fernandez-Stoll), aka Third Wheel Friend, a man who takes "A Christmas Story"- themed costumes a little too seriously—and I say that as someone who dropped fifty bucks on adult ballet wear last weekend so I could be Zoya the Destroya for Halloween.
I am of course supportive of an agreed-upon volunteer outing, but if someone made me miss a movie with my friends so I could be inappropriately dressed while ladling out soup for three hours, there'd be a tiff over it.
(Image credit: Courtesy of Netflix)
Drama ensues. Hot Doctor Single Dad does not believe in magic and is therefore unworthy. When she tells him about the calendar, he compares it to a horoscope. Basically he tries to apply logic to the premise of this movie and is punished dearly for it. Will they move past their differing opinions on haunted calendars? Watch to find out!
The most realistic thing in this movie is when someone makes the tired joke about their friend being ugly enough to break a camera, because this is something that is said to me routinely in the course of my social media day job. Also realistic: Everyone in this poor woman's life requests free labor from her in the form of excellent candid photography.
This movie is fun and will not require all of your attention while you eat leftover Halloween candy and play on your phone. I deduct 10 points from it for perpetuating the myth that the "friend zone" exists, but aside from that, it's harmless and cute. Enjoy!