Netflix Is Celebrating Anne of Green Gables At Your Local Bookstore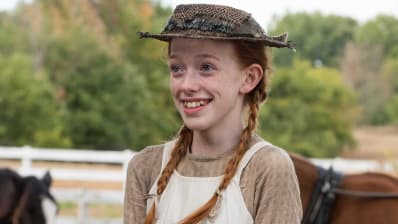 (Image credit: Netflix)
In case you've missed the news, Netflix's Anne—the streaming service's grittier remake of the classic Canadian novel and miniseries—is available starting Friday, May 12. To celebrate, the company is partnering with Goodreads and independent bookstores across the country for a little bit of Anne Shirley right in your neighborhood.
The seven episode series is in partnership with Canada's CBC, and goes a bit "off-book," according to showrunner Moira Walley-Beckett. "This is a very grounded, real version of the story. Life in Prince Edward Island in the late 1800s was a hard, gritty, scrappy life. It was messy, it was covered in red mud," she told the CBC. "It's not doilies and teacups, it's life."
You get a little taste of the new twist on the century old story—and also Anne's signature resilience and stubbornness—in the trailer that Netflix released back in April. 14-year-old Amybeth McNulty beat out 1,800 other girls to play the titular role, and we're pretty excited to see how she portrays the beloved character.
While you can certainly start watching the series starting on Friday, the party is happening at over twenty independent bookstores on Saturday, May 13. Stuffed with "all the Green Gables essentials, moms, daughters and all kindred spirits of all kinds will receive a custom designed tote bag full of darling gifts inspired by Anne Shirley," according to a press release. Gift totes are in limited quantity, but the bookstores will also have flowers and photo ops for a Anne-filled Mother's Day weekend extravaganza.
Here is the current list of confirmed bookstores:
Arizona
Deseret Book, 2894 South San Tan Village Parkway Suite 103, Gilbert, AZ 85295
California
Ensign Books, 8657 Villa La Jolla Dr Ste 121 B, La Jolla CA, 92037
Chevalier's Books, 126 N Larchmont Blvd, Los Angeles, CA 90004
Kepler's Books, 1010 El Camino Real, Menlo Park, CA 94025
Booksmith, 1644 Haight St., San Francisco, CA 94117
Colorado
Tattered Cover Bookstore, 2526 E Colfax Ave., Denver, CO 80206
Idaho
Rediscovered Books, 180 N 8th St, Boise, ID 83702
Iowa
Prairie Lights Bookstore, 15 S. Dubuque St., Iowa City, IA 52240
Kansas
Rainy Day Books, 2706 W 53rd Street, Fairway, KS 66205
Kentucky
Joseph-Beth Booksellers, 161 Lexington Green Circle Suite B1, Lexington, KY 40503
Massachusetts
Porter Square Books, 25 White St, Cambridge, MA 02140
The Montague Bookmill, 440 Old Greenfield Road, Montague, MA 01351
The Odyssey Bookshop, The Village Commons, 9 College St, South Hadley, MA 01075
Michigan
Schuler Books, 2660 28th St. SE, Grand Rapids, MI 49512
Mississippi
Square Books Jr., 111 Courthouse Square, Oxford, MS 38655
New York
May 10: Rare Book Room at The Strand, 828 Broadway, New York, NY 10003
Northsire Bookstore, 424 Broadway, Saratoga Springs, NY 12866
South Carolina
Hub City Bookstore, 186 West Main Street, Spartanburg, SC 29306
Texas
Logos Bookstore, 6620 Snider Plaza, Dallas, TX 75205
Utah
Deseret Book, 45 W South Temple, Salt Lake City, UT 84101
Vermont
Northshire Bookstore, 4869 Main Street, Manchester Center, VT 05255
Washington
Third Place Books, 17171 Bothell Way NE, #A101, Lake Forest Park, WA 98155
Elliott Bay Books, 1521 Tenth Ave., Seattle, WA 98122