Netflix Is In Talks for New Gilmore Girls Episodes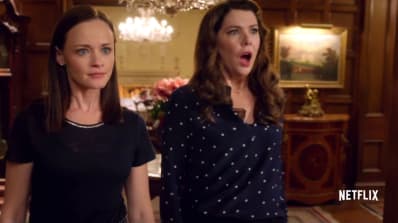 (Image credit: Netflix)
Gilmore Girls fans, we may just find out what happens after those last four words, after all. Netflix is in talks for more episodes of the beloved series revival.
But don't go marking your calendars just yet: it's still "very preliminary," according to what Ted Sarandos, Netflix's chief content officer, told the U.K. Press Association on Sunday.
"The worst thing is to wait a couple of years for your favorite show to come back and for it to disappoint you but they sure delivered and people were really excited about more and we have been talking to them about the possibility of that," he said, according an article in Britain's North-West Evening Mail.
Netflix brought back the beloved WB teen drama last November for four hour-long episodes entitled "Gilmore Girls: A Year in the Life." The streaming service did several fun promotions for the revival, including turning coffee shops around the country into Luke's Diner and creating a layered candle for binge watching that burns a different scent per episode.
The content chief also mentioned that British television continues to be a big part of the platform's focus. There are co-productions with the BBC in the works, such as Troy: Fall Of A City, written by The Night Manager screenwriter David Farr. He also mentioned "new installments" of Black Mirror, as well as being "deep into production" of season two of The Crown.
Sarandos also gave some additional insight into The Crown; Clare Foy and Matt Smith won't play the Queen and Prince past season two. "It was always conceived this way that we would do the show a decade a season, going up to the current day after about six seasons and recasting along the way so that we don't have to age the cast with prosthetics and makeup and giving us the opportunity to have a fresh take of the royal family every couple of seasons."
Would you watch more episodes of Gilmore Girls? Tell us in the comments.