8 Netflix Rom-Coms to Stream This Autumn (Pumpkin Spice Latte Optional)
We independently select these products—if you buy from one of our links, we may earn a commission. All prices were accurate at the time of publishing.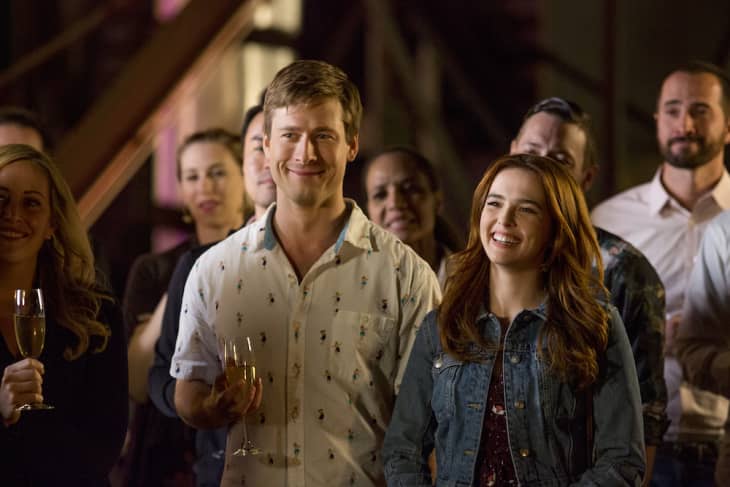 August has transitioned into September, pumpkin spice offerings are back on menus, and Taylor Swift released an indie folk album, which can all only mean one thing: it's officially autumn—otherwise known as rom-com szn. Autumn is the best season to fall in love, after all. But, given that COVID-19 quarantine has made that a bit more difficult this year, the next best thing is to watch others fall in love on screen. (Or is it just sad?) A mixed offering of well-known classics and new additions, below are eight rom-coms to stream on Netflix this autumn—pumpkin spice lattes optional. 
1. "Sleepless in Seattle"
A Nora Ephron flick in a rom-com listicle? Groundbreaking. This 1993 gem follows a recently-widowed man (Tom Hanks) who unwittingly shares his feelings about widowhood on a radio talk show after his son dials in in an attempt to find his father a new wife. An engaged reporter (Meg Ryan) ends up falling for him after hearing him speak, writing to him about meeting at the Empire State Building on Valentine's Day.
Damon Wayans Jr. stars as a client who decides to sue an online dating site after over 900 failed dates in this new offering on Netflix. A young cash-strapped lawyer (Rachael Leigh Cook) takes on his case, and well, sparks end up flying. Who would have seen that coming? 
3. My Best Friend's Wedding
Julia Roberts and Dermot Mulroney headline this 1997 classic about childhood friends Julianne and Michael who make a deal to marry each other if they're both still single at age 28. When Michael announces his impending nuptials to a younger woman, Julianne realizes her true feelings for him. Things are even more complicated when she's appointed maid of honor. 
4. "Silver Linings Playbook"
Bradley Cooper stars as a man named Pat who, after losing his job and coming out of a psychiatric hospital, decides to rebuild his life and reunite with his estranged wife. He soon meets Tiffany (Jennifer Lawrence), a woman who decides to help him reconnect with his wife—if he agrees to be her dance partner. 
Christina Milian stars as a city girl who wins a rustic New Zealand inn. When she's confronted with its crumbling facade and meddling neighbors, she enlists the help of a local contractor (Adam Demos) to renovate and sell the space, stat. Could love be inn the air?
Ali Wong and Randall Park delight as childhood friends who reconnect as adults in their hometown of San Francisco, California. The old sparks continue to fly, but the fact that the two come from completely different worlds threatens their chance of love. 
Zoey Deutch and Glen Powell star as burnt out assistants in the same office building in this charming rom-com that also stars Lucy Liu and Taye Diggs as their respective workaholic bosses. The two then scheme to set up their bosses to get some much-needed breaks, but keeping them together proves to be a whole other challenge. Sparks fly, of course, but soon, the sparks aren't just between their bosses.
When an aspiring music journalist (Gina Rodriguez) lands her dream job and must move to San Francisco, her longtime boyfriend (Lakeith Stanfield) decides to break it off rather than do long distance. With the help of her besties (DeWanda Wise and Brittany Snow), she embarks on one last hooplah in New York City in this heartfelt rom-com that proves that oftentimes, friendship is far more superior than romantic love. 
Honorable "not really a rom-com, but kind of a rom-com" mention: "Pride and Prejudice"
Keira Knightley and Matthew Macfadyen bring Jane Austen's Elizabeth Bennet and Mr. Darcy to life in this 2005 rendition of Austen's beloved novel. While considered more of a romance drama more than a rom-com, Knightley and Macfadyen (not to mention, Simon Woods as the lovestruck Charles Bingley) delight with their witticisms and sarcasm.