Netflix's A Christmas Prince Is So Bad, It's Good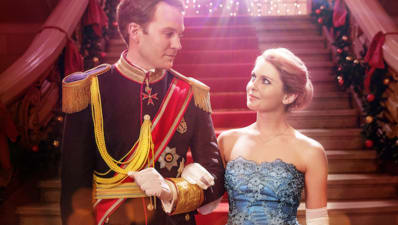 (Image credit: Netflix)
If you love Hallmark movies during the holidays and Freeform's 25 Days of Christmas, you need to know about A Christmas Prince, Netflix's new holiday rom com that's so bad, it's good.
This movie about an American woman falling in love with a super hot member of a royal family technically came out days before Prince Harry proposed to Meghan Markle, but we'll take an American princess fairytale anywhere we can get one. Rose McIvor (the star of the CW's iZombie) plays Amber, a put-upon editor at… a magazine? A Jezebel stand-in? It literally does not matter. Anyway, she gets put on the Royalty From Made-Up Countries beat at the last minute, because there's an international press conference happening and no one else wants to go! It's Christmas time! So goes our intrepid copy editor, which, by the way, is not how journalism works, but okay.
She's off to interview the enigmatic prince (Ben Lamb) of Aldovia, a fictional land clearly meant to be the UK, and so naturally he's a smouldering Brit with a bad boy rep. You can pretty much figure out the rest of the movie from there: She's a reporter sent to dig up dirt; there are mistaken identities involved; and, most importantly, there's a makeover scene (though sadly it's not a montage!). It's like Never Been Kissed, but with more English accents and snow. And horses!
It's got your classic archetypes: She's gorgeous, yet established as approachable, because she's constantly breaking things; he's got a media frenzy around him claiming he's a drunk womanizer, but he must be misunderstood. Here, even the queen of Not England is up for having fun. There are other characters, including a wise-cracking younger sister, a sage wisdom-dispensing dad, and a pair of evil-plotting royal relatives – but let's face it, we're just here for some rags-to-riches romance.
A Christmas Prince is 100% formulaic and 200% delightful. It knows exactly what it is, and it leans in, hard. That's what makes it the perfect holiday rom com you can watch while also wrapping gifts or shopping online.
It's available to stream on Netflix now.