Hear Will Smith Motivate You on Netflix's Nostalgic Moviefone Hotline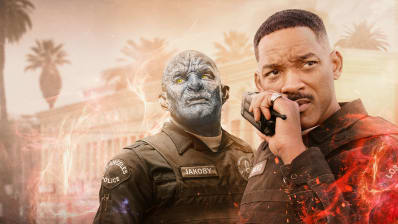 (Image credit: Netflix)
A new Netflix original movie is coming December 22, and the streaming giant launched an unusual marketing campaign to promote it. Bright stars Will Smith, where plays a cop in a fictionalized version of L.A., one in which "interspecies tensions" are abundant. His partner is an orc (played by Joel Edgerton) and the trailer shows him batting a fairy away from his porch, so there's definitely some magical realism at play here.
To promote Bright, Netflix decided to capitalize on its leading man's common name and organized a Bright Hotline telethon around it. A while back, Will Smith and Netflix put out a call for everyone named "Will Smith" to submit a video about themselves, auditioning for a spot on the telethon team. This morning, a handful of those sharing the star's name manned the phones to answer questions about Bright.
There's a 60-minute video from yesterday's "telethon" with the many Will Smiths, though only a cardboard cut-out of the Will Smith is seen on camera.
You can get in on the fun by calling 1 (844) SEE BRIGHT to hear to a Mr. Moviefone-sounding guy read off hilarious menu options like, "To get a recipe for Big Willie-style beef and crab nachos, press 5," and "To hear why we even made this hotline in the first place, press 7." Doing the latter gets this cheerfully honest response: "We were told nostalgia would evoke an emotional response. Is it working? Is it?"
You can also use this cheat sheet to find some super funny "off menu" Easter eggs:
To hear Will Smith pump you up with motivating slogans from BRIGHT: 2-1
To hear Joel Edgerton's guided meditation: 2-3
Find out what outfits you can wear while you watch Netflix: 1-2-3-2
Find out how many different flavors of gummy worms exist in the world: 1-2-3-3
Bright drops on Netflix Friday, December 22.