BEHR Premium Plus Ultra® Paint & Primer In One!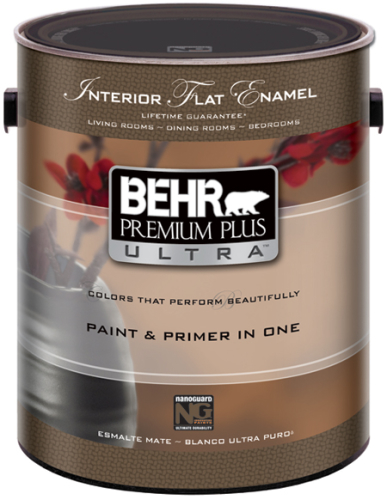 Introducing a colorful way to paint and prime all in one with the new BEHR Premium Plus Ultra® Interior Paint, the highest quality interior paint that BEHR® has ever made. Formulated with NanoGuard® technology to help provide a denser, harder and more durable finish, this amazing paint covers existing or uncoated surfaces without a separate primer, so it'll save you time by reducing your need to buy multiple products!
BEHR Premium Plus Ultra® Interior Paint is an all-around paint powerhouse: when dry, it forms an extra-protective shell that resists moisture, stains and dirt, and its proprietary blend of mildewcides also provides a mildew resistant finish. A low-VOC product, all interior sheens are less than 50 VOC and offered in the following finishes:
You can also purchase Interior/Exterior Flat 8 oz. samples ($2.94/sample). The line is available exclusively at The Home Depot.
Complementing the introduction of BEHR Premium Plus Ultra® Interior Paint is the launch of a boutique, hand-selected palette of 386 colors that will provide DIY'ers a canvas to express their tastes and creativity. Featuring colors ranging from relaxing, organic-toned neutrals to more saturated and vibrant hues, the palette was chosen to be easy to combine, pleasant to live with, and help homeowners create harmonious, contemporary, classic and personal color schemes.
Comments have been disabled.