Explore The Beauty of Japan's Abandoned Architecture In This New Book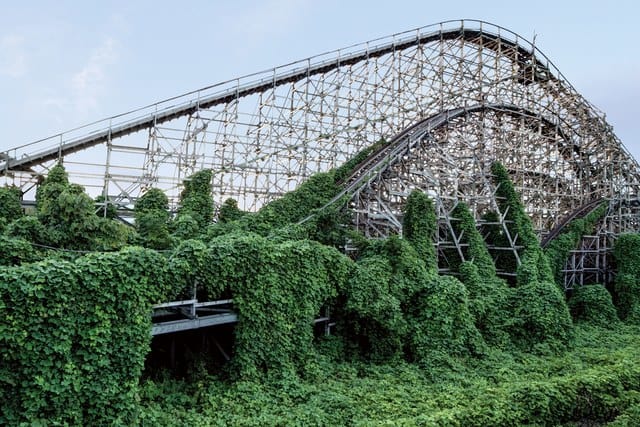 (Image credit: Shane Thoms)
Ever wonder what modern buildings and structures would look like if nature overtook them? Australian photographer Shane Thoms explored Japan searching for such architecture, and it's now all in this new book, Haikyo, released this month by Carpet Bombing Culture.
"These modern ruins or 'haikyo,' provide a paused and romantically silent contrast to a country known for the brightness, sound, and movement that swells in so many of its thriving metropolises," Thom writes.
(Image credit: Shane Thoms)
Thom visited places that were built during Japan's economic boom in the 1960s and '70s, and which were abandoned to decay when things slowed down. Included in the book is everything rom abandoned hotels to office buildings to Nara Dreamland, the country's version of Disneyland that was built in 1961 and now features roller coasters being overtaken by vegetation and a "Main Street USA" that looks more like a ghost town:
(Image credit: Shane Thoms)
Another (quite famous) location is also explored: Hashima Island, the former coal facility and current UNESCO Heritage site. Hashima was a working coal mine until 1974, when Mitsubishi closed the mines as they were near depletion and demand for coal was dropping. The island's residents, which numbered 5,259 at its most populous in 1956, were relocated shortly after the closure, effectively leaving Hashima untouched by people for several decades. After some restoration in the early 2000s, the island reopened for tourists in 2009, and was featured as the secret lair of villain Raoul Silva in the 2012 James Bond film, Skyfall.
(Image credit: Shane Thoms)
This "curious collection of images... provide a rare and intimate glimpse into a secret, mysterious and sometimes bizarre world," says the note from the publisher. "Each with its own unique story to tell, the end result is the presentation of a fascinating realm where one can contemplate Japan's hidden journey from permanence to disposability, composition to decomposition and construction to deconstruction."
Shane Thoms' Haikyo is available now.
Apartment Therapy supports our readers with carefully chosen product recommendations to improve life at home. You support us through our independently chosen links, many of which earn us a commission.