Here Are The Potential New Emojis Coming In 2018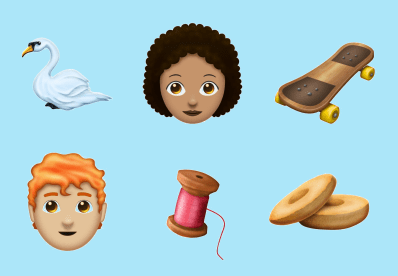 (Image credit: Emojipedia)
We may have just gotten the new 2017 emojis last month, but there's already talk about next year's newbies. Here's what could be coming to a phone keyboard near you in 2018.
Emojipedia reported today that the beta for Unicode 11.0 has been announced, and there are 130 potential new emojis jostling for placement at your fingertips. The possible newbies include redheaded person, bald person, curly haired person, cold face, hot face, superhero, super villain, woman's flat shoe, hiking boot, llama, lobster, bagel, mango, and cupcake, among others.
There's some helpful home items, like soap and toilet paper, so we hope our frantic text requests to housemates can be conveyed entirely in emojis in the near future.
The picks aren't final, and will be decided on by Unicode in January 2018 (and won't hit your phone until the latter half of next year).
Another notable change is that Unicode might be including the option for changing the direction of emojis, which Emojipedia illustrates:
(Image credit: Emojipedia/Apple)
Unicode said that they'll be announcing the final 11.0 update at the end of Q1 2018, so we'll have to wait and see which ones make the cut.
(Image credit: Emojipedia)
Here's the full list of draft emojis up for consideration:
Smiling face with three hearts
Hot face
Cold face
Partying face
Woozy face
Pleading face
Superhero (man and woman)
Supervillian (man and woman)
Red-haired man and woman (skin tone variations)
Curly-haired man and woman (skin tone variations)
White-haired man and woman (skin tone variations)
Bald man and woman (skin tone variations)
Leg (skin tone variations)
Foot (skin tone variations)
Bone
Tooth
Lab coat
Goggles
Hiking Boot
Woman's flat shoe
Racoon
Llama
Hippopotamus
Kangaroo
Badger
Peacock
Parrot
Swan
Lobster
Microbe
Mosquito
Mango
Leafy green
Bagel
Salt
Moon cake
Cupcake
Compass
Bricks
Skateboard
Luggage
Firecracker
Red envelope
Softball
Flying disc
Lacrosse
Nazar amulet
Jigsaw
Teddy bear
Abacus
Receipt
Toolbox
Magnet
Test tube
Petri dish
DNA
Fire extinguisher
Lotion bottle
Safety pin
Thread
Yarn
Broom
Basket
Toilet paper
Soap
Sponge
Infinity
Pirate flag
What emoji are you most hoping for? Tell us in the comments.