Judy Ross Textiles and Hable Construction For Garnet Hill Are Here To Add Artistry To Your Bedroom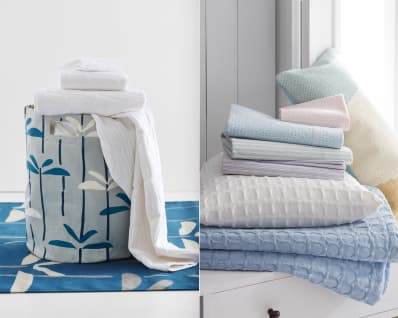 (Image credit: Courtesy Garnet Hill)
Garnet Hill is a go-to destination for home and apparel, especially for quality bedding and bath items. And already in 2017, two new designer collections recently launched on the site and in their catalog that are set to add serious style to your space.
Found in luxe hotels and homes all over the world, we've long been fans of Judy Ross' vibrant and modern take on textiles (she's given us tips on how to run your home like a ship, and we even toured her home back in 2013). Her pillows are a perennial favorite, too.
And we're clearly not her only admirers. "When we first discussed introducing a new collaboration, we immediately thought of Judy Ross Textiles, and the collection she designed for us is truly spectacular," says Garnet Hill President, Claire Spofford. "We are thrilled to be working with such a respected designer and are certain that our customers will love the collection."
The collection, which debuted on Thursday, includes bedding, rugs, beach towels, and storage in warm neutrals with pops of color.
If you know of Hable Construction via Garnet Hill, it's probably for their whimsical take on kids' pajamas and Christmas stockings. I talked to designer and artist Susan Hable about the brand's relaunch on the site earlier this year.
"If you redefine yourself you have to be careful," she said. "We've grown up with Garnet Hill for 13 years." But the textile brand has been moving toward more artistic textiles for awhile now, like their collections for Hickory Chair and Loomsource.
Taking this direction into consideration, how did she translate that style for Garnet Hill? "I asked my friends who are Garnet Hill customers what patterns they liked! They pointed and said, 'yes' to this and 'no' to that."
Hable mentioned that this mix-and-match bedding collection, inspired by the beauty of nature, would act as foundation pieces for future collections for Garnet Hill. And what's coming next? "Bath products—and hopefully some quilts!"