New IKEA Commercial Calls FRAKTA "The Hardest Working Bag in the World"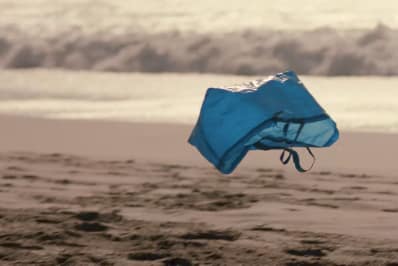 (Image credit: IKEA/YouTube)
After all the FRAKTA brouhaha, IKEA decided that the iconic bag needed its own tiny film. The company revealed a new cinematic ad for the under-a-dollar workhorse this week, and it's definitely worth a watch.
Can you believe it's only been six weeks since Balenciaga started this whole FRAKTA thing with their $2K knockoff? Coincidentally, IKEA and their agency partner Acne have been working on this campaign since February. The ad is a result of that.
Acne, you might remember, pulled together the viral print ad response, "How to spot an original FRAKTA bag," full of tongue in cheek checks like, "Shake it. If it rustles, it's the real deal." The agency says it received a stunning 1 billion potential impressions.
"The team from Acne and IKEA group working on the FRAKTA campaign enjoyed the engagement. It is fantastic to see how many people shared it and commented on it. It is still going on, people are still hacking away with FRAKTA," said Johan Holmgren, Creative Director at Acne.
The FRAKTA hacks definitely haven't quit, as evidenced by a limited edition hat that sold out almost immediately, and a pair of FRAKTA inspired Air Jordans, retailing for $1,500.
(Image credit: IKEA/YouTube)
The new ad celebrates the simple utility of the FRAKTA, and that its usefulness (FRAKTA does mean "carry" in Swedish, after all) spans national and economic borders.
"FRAKTA is a real symbol of what IKEA stands for. IKEA is for everyone, the ones with thin wallets and the ones with larger wallets," Acne said in an email. "IKEA makes design, quality and functionality available for the many people. Being part of everyone's every day. And that is what we show in the campaign."
The spot includes images of people using the bag to carry groceries, help people move, kick out a boyfriend, and as an umbrella.
Check out the video below:
Soak up the praise, FRAKTA. You deserve it.