New Show 'Animal Cribs' Tackles Over The Top Renovations For Your Pets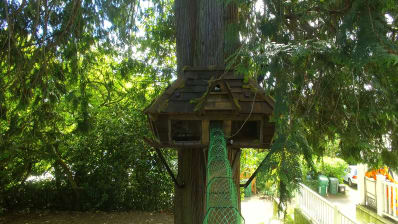 (Image credit: Courtesy Animal Planet)
Renovation shows are having a moment, and yet with all the options past and present, there hasn't been one totally dedicated to one very important part of the family: animals. Thankfully, Animal Planet is on it, and a familiar face is taking on these extreme home makeovers (pet edition).
You might recognize Antonio Ballatore as the winner of HGTV's Design Star and the host of The Antonio Treatment. On his new show Animal Cribs, the designer is taking on a variety of—shall we say?—exotic clientele, planning and executing renovations for homeowners that put their pets front and center (while still making it work for the whole family).
We caught up with Antonio from his studio in in Los Angeles via phone to get the scoop on the new series, which premieres tonight.
(Image credit: Courtesy Animal Planet)
How did you get involved in a show designing spaces for pets?
Well, when I had [The Antonio Treatment], I would always do little side things for the family pets that didn't even really get seen. It was always like a little extra thing here and there. And then this production company found Chewie. Chewie is actually all to blame for this one. They saw the combo of my crazy design stuff that I do and it fit what they were looking for. It was actually a perfect match.
I've done a lot of crazy stuff over the years and this — besides blowing stuff up back in my set design days—it's probably the most fun that I've had. And it's challenging, too, with animals. There's a lot that goes into it. It's just not picking out cool colors, it's a lot of psychological, a lot of functional stuff that goes into it that makes it cool.
What are those unique challenges when you're incorporating pets into a renovation?
Well, with this season, we worked with everything from exotic birds to reptiles and small mammals, so for each species, I got to learn a lot about it. You have to go deep into what is best for them — if you're doing exotic birds, what kind of woods are good for them, what's durable, how to make it easy on the pet owners to clean, etc. Making it look cool is the easy part at the end of the day. It's all the other stuff that has to go into it before you could really get your designs going.
(Image credit: Courtesy Animal Planet)
In the first episode, you tackle a multi-room renovation for a family with a cat, so that's quite extensive and a lot of space. What are your best tips for small space dwellers who want to have a more pet-friendly home?
It depends on what pet you have. For instance, with cats, you could always build up and make something cool. For me growing up, I've always hated those cat-scratch trees.
They're so hideous.
My dad hated them, my grandfather hated them, it goes way back, the hate for this stuff. [laughs] But they're great to have because the cats have fun on them, so the challenge for me was to recreate stuff like that but make it cool-looking for your space. And cats always like to go up, they like to perch high and look over the room.
Growing up in New York City, you're always limited with space so you always take stuff up higher, you know what I mean?
For some of the dog projects, there's a lot of unused space under stairways so we created dope, cool, little hideouts for the dogs under stairways. We dissected some furniture, took it apart and made little tunnels. It depends what species you have but we made the most out of some small spaces. And at the end of the day, it came out really awesome and the homeowners loved it and the pets loved it.
(Image credit: Courtesy Animal Planet)
Why do you think that now is the right time for a show like this?
It's one thing to design spaces for people, but to design for pets and create something really awesome for everybody, I think it's a whole new trip and I think people are going to love it. Even if you're not a pet owner, there's a lot of regular rooms with custom crazy stuff that could appeal to anybody. But if you love your pet, it's for you, for sure.
You mentioned Chewie was the catalyst for the show. Does he have a cribs-worthy setup, too?
Yes, it's called my whole house. [laughter] He goes wherever he wants to go. With Chewie, it's more about designing a space that's drool-proof, that's hair friendly, stuff that's easy to clean. That's how I roll with Chewie. Every bed and every chair is his just as much as mine.
I just adopted this new girl Edie, a little rescue. Her hair is all screwed up, her teeth are screwed up, I don't think anybody wanted her. And I got her and she's the cutest thing. She's so sweet. And I think about making them something, but they're always with me and on top of me. It's more like my cars. I modified the cars for them. I don't know, I'm weird.
If you could design a space for a famous pet, who would it be?
I'm a big fan of Howard Stern and his wife, Beth Stern. She does a lot for rescue cats—I follow her on Instagram and I see her setups and it's all nice stuff. But I'd love to make something custom for them to accommodate all their rescue cats. That's something I would probably be down to do.
Maybe she reads Apartment Therapy.
I'm open. One thing with the show, we have these B stories where we help a local rescue or a local vet, and I've gotten really into that part of the projects and seeing all the awesome work that all these rescue places do.
What's your favorite project so far?
Well, as the season went on—it's like every first season—each story got better and better. We did some stuff for a blind dog. I helped out this one kid who rescued exotics and that was probably my favorite one. There were 22 species. We did 19 or so enclosures for turtles, lizards, birds—we even had hedgehogs. We had like little one bedroom apartment for the hedgehog. I brought in these guys who do granite work, who do a lot of zoos projects and I got to work with them and make all these crazy caves. I've always loved birds, I've always loved reptiles, and I always wanted to do these big cages and stuff but I never had the space to do it, and to finally do it was pretty awesome.
Thanks, Antonio!
Animal Cribs' eight episode season premieres tonight, Friday, November 3 at 10pm ET on Animal Planet.