For New Yorkers, Fire Escapes Are Extra Magical These Days
We independently select these products—if you buy from one of our links, we may earn a commission. All prices were accurate at the time of publishing.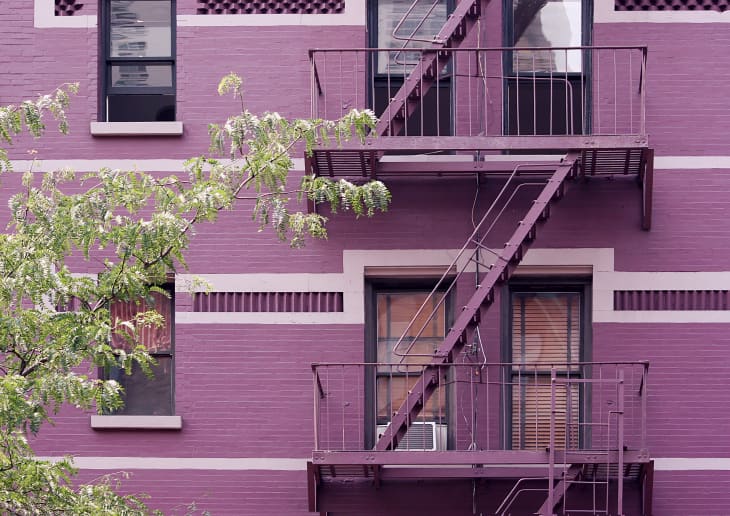 Stuck in our homes for the foreseeable future, many of us are seeking relief from cabin fever any way we can. We've seen footage of rooftop workout classes and balcony a cappella concerts gone viral—but I'd like to pay tribute to the humble fire escape, where this New Yorker is spending most of her time lately. 
Hollywood has long glamorized the New York City fire escape: See Audrey Hepburn strumming the ukulele in "Breakfast at Tiffany's". Or think of Tony and Maria declaring their love in song on the fire escape in "West Side Story"—an iconic scene that affirmed the meager fire escape as New York's answer to Italy's romantic Romeo and Juliet-esque balconies. Covered in dirt and rust, there's a kind of grimy glamour to fire escapes. They also offer urban dwellers much-needed fresh air, sunshine, and human contact at a time when we're encouraged to stay indoors. 
Follow Topics for more like this
Follow for more stories like this
These days, our fire escape gives my boyfriend and I a chance to reconnect with our East Village community. At 7 p.m., we grab a cocktail and settle into (as comfortably as one can on a few planks of rigid, rusty metal) our fire escape. We watch as our neighbor takes his guitar and amplifier out onto his own fire escape. He plugs in and gets to work: Every evening at this time, he serenades the neighborhood with a twangy, poignant, Jimi Hendrix-style rendition of "The Star Spangled Banner." From our fire escape, we can cheer along with other East Villagers clapping and clanging metal spoons on frying pans. My boyfriend even moved his keyboard near the window so he can play along, and another neighbor has joined in with his trombone. It's an impromptu quarantine jam session in our little corner of East 7th Street.
We're not alone in retreating to our fire escape. I spoke to many resourceful New Yorkers who have turned this small, unconventional space into a mini oasis.
Note: As stirring as these stories are, it's important to take heed before you venture out onto your fire escape. This is not an endorsement to use a fire escape recreationally; remember that their sole purpose is to serve as an emergency exit. While building owners are required by city law to keep these structures maintained, accidents have happened. Don't store objects on your fire escape or obstruct it with bulky items. Use common sense and call 311 if you are concerned about the state of your fire escape. 
Brooklyn-based artist Eric Oglander and his neighbors regularly take to their fire escapes to dance collectively to '80s hits like "Take On Me." Watch below—you won't want to miss the man in the newsboy cap dancing hand-in-paw with his dog. 
"These contraptions meant for escaping fires are now serving as an escape from our tiny spaces in the city," Oglander said. "To step out on the fire escape at 7 o'clock and have a brief social interaction with neighbors you've never met has provided a sense of community that many people have lost during this time."
Another Brooklyner, Sam Rauer, fondly recalled enjoying her fire escape one recent, rare warm day. "The sun was hitting my skin. I was wearing a tank top, reading Elena Ferrante and drinking coffee," Rauer said. "It was magical."
Director and actor Erin Soler shared a photo from her own fire escape: a birds-eye view from her fifth floor walk-up in Astoria. Her friend is visible below on the sidewalk, a tiny yet familiar face. 
"A couple of my friends live in the neighborhood and have kept their outdoor running and exercise routines," Soler said. "When they are passing my apartment, they'll send me a text, and we're able to have a five minute chat from five flights away. I treasure these distant, but in-person, interactions."
With nowhere else to go, Instagram influencers are posing for #OOTD shots out on fire escapes and posting photos of their flourishing herb gardens. For photographer Laura Trevino, the fire escape has become her studio and a source of inspiration. "Since being isolated in my Greenpoint apartment and fighting depression and loneliness, I've sought refuge by sitting on my fire escape and enjoying fresh air and photographing birds and critters that surround me. It's brought me so much peace and comfort during these trying weeks."
For anyone living in old tenement-style walkups in New York City, a rickety-yet-romantic fire escape is a blessing in this era of shelter-in-place, even if you don't physically go out onto it. A fire escape provides a change of scenery, a splash of sunshine, and a dose of humanity. Add a cocktail, a cup of coffee, or a guitar, and you'll have an instant mini-home away from home.