A Tiny 300-Square-Foot Studio Apartment Is a Jewel Box
We independently select these products—if you buy from one of our links, we may earn a commission. All prices were accurate at the time of publishing.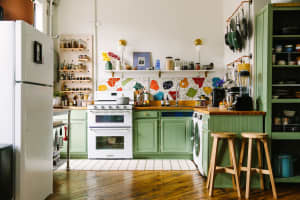 Can't-Miss House Tours Straight to Your Inbox
Keep up with our latest house tours each weekday with our House Tour of the Day newsletter
Name: Heather Alexander
Location: Washington Heights, New York City
Size: 300 square feet
Years lived in: 6 years, renting
After divorcing a "design-curmudgeon," Heather says she really went for it when she moved into this place six years ago. Filled with so many colors, fun finds, and treasures she dubbed her home the "Jewel Box." And it's even more impressive when you realize she's fit all of this fantastic style into a teeny 300-square-foot studio apartment!
Heather—who is a children's book editor specializing in original audio works—truly has a knack for fitting lots of fantastic pieces in one compact space. And everything in her apartment has a fascinating story behind it. This space was truly a wonderful diamond in the rough.
Apartment Therapy Survey:
My Style: Very eclectic! I'm drawn toward mid-century, but also love the glitz of the '20s and '30s. I like objects with an interesting history, and piles of artwork. I'm very lucky that most of my art collection has been given to me by the artists in my life, my friends and family. I call this place the Jewel Box because it has so many treasures.
Inspiration: The original inspiration for this apartment was the Jane Hotel downtown, because a friend gave me her big, overstuffed brown leather sofa. Not at all my style, but a generous gift and designing around it pushed my creativity in new directions. The space has morphed several times since then. I moved in after I divorced a design-curmudgeon. He would never let me use too much color or have a lot of stuff around. So when I got my own place, I really went for it.
Favorite Element: The pink couch is my favorite element for sure! I almost got it in gray to be practical, but I really loved the pink so much. I regret nothing. I also love the tiny gallery. The hallway space is not super useable, but it's a great place to display my collection of miniature art and curios.
Whoever designed this studio really understood what living in a studio is like. There is a little dressing room area attached to the bathroom, which is a dream. And the little step up and railing in the kitchen provides a wonderfully clear divide from the living space.
Biggest Challenge: I love to sew and craft, and that is a major challenge in this space. The IKEA NORDEN table has been perfect for that. I also love to have parties, crowding all my friends in here. I think I like it more than they do, so I've dialed it back to only a couple at a time now.
What Friends Say: Usually when people walk in, they say WOW. Some mean "Wow, are you insane?" and some mean "Wow, I love it!" I've had a few requests to help friends design their spaces, which I'm very flattered by.
Biggest Embarrassment: I'm terrible at lamps and light-fixtures, so I rely on the overhead contractor-grade boob-lights. I also put one of the shelves on the bookcase backward so the rough edge shows, and didn't notice until I couldn't fix it.
Proudest DIY: I painted the hallway myself, which took about 40 hours because I didn't take AT's advice. First, I used a laser level to measure and tape the stripes. When I got about halfway down, I realized while the stripes were level, the floors and ceilings were not, so everything looked wonky. So I took everything down, and started again with a ruler. Then I tried to guess where the light blue would go instead of painting the entire space, as recommended by AT, and I was off on a lot of it. I also had to do about four hours of touch-ups. I love how it turned out, but I'll never do it again. Ever.
Biggest Indulgence: The bed. I had been sleeping on a mattress and box spring on the frame that came with my very first mattress, which I realized recently was about 23 years old. I obsessed over this bed for months, and when I got a new job and a raise, I decided to splurge. I love it so much.
Best Advice: Don't be afraid of layers and colors, and don't do things halfway. Your vision will be best served if you really indulge your ideas. Scaling back is rarely the answer.
Dream Sources: I'd love to be able to say everything I had was from flea markets and auctions all over the world.
ENTRY
Dresser — My grandfather built this dresser for his first apartment in the 1930s.
LIVING ROOM
Parlour Sofa — CB2 (no longer available)
Sequin and green velvet cushion covers — H&M Home (similar here)
Brass lamp — Target
LAPPLJUNG Ruta Rug—IKEA
Coffee Table — Was my grandparents'. It raises up to card table height, and the leaves fold out like magic!
BILLY Bookcases — IKEA
LACK side table — IKEA
EXPEDIT shelf — IKEA
Table lamp — Vintage from Etsy. Shade from Marshall's
Storage ottomans (I added the trim) — Target
Saarinen Executive armchair — Vintage from eBay, but available at Knoll
Heart shaped nesting tables — Estate sale in Richmond, VA
Artwork by Jonathan David Bauer, Drew Brockington, Joanna Alexander, Jedd Reisner, Nanci McCune, Tim Burton, Osvaldo Miranda Ferrer, Brooke Harker, Zachariah O'Hora
BATHROOM
MALM dresser — IKEA (I've been trying to replace this since I moved in, but the space is really narrow and it's hard to find something to fit!)