Nicole & Zach's Transitional Live/Work/Party Space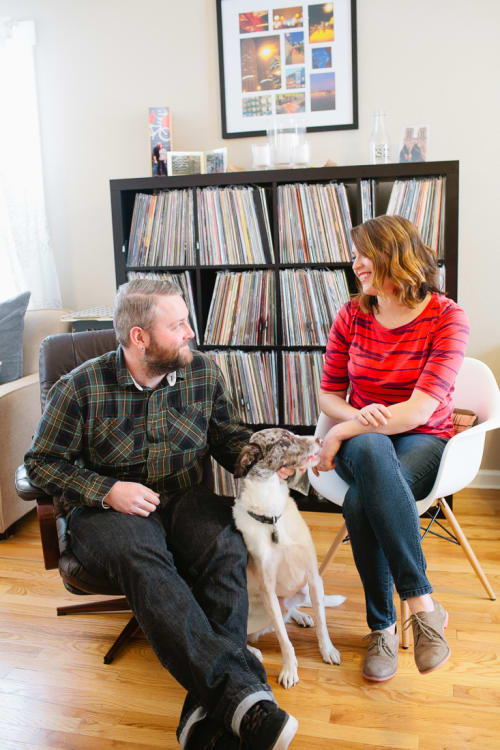 Name:
Nicole
& Zach Lowery (and Oliver the dog!)
Location:
Berkeley neighborhood, Denver, Colorado
Size:
690 square feet, half of a duplex

Years lived in:
5 years; ownedWedding and event "party" planner Nicole Lowery and her husband, Zach, a web developer, settled in Colorado about 5 years ago in a old classic duplex built in the early 1900s located in the Berkeley neighborhood of Denver. I first met Nicole through her party planning business, and wasn't surprised to find her home just as stylish, energetic, and colorful as she is.
One quality that really makes this home special is its open floorplan. Right as you walk through the front door you are welcomed into a multi-functioning main room that Nicole and Zach designed to serve as their main living, office and dining space. By day, an efficient office space provides separate computer work stations for the two of them (for days when they both working from home). At night it easily transitions into the perfect entertaining spot by simply moving the dining table and chairs away from the wall. Almost all of the seating and table options in the space are on wheels or easy to move, making this the perfect spot for daytime web coding and
party planning
 as well as the occasional evening craft beer tasting party, sampling some of Zach and
friend's
 local brews, of course!
Nicole and Zach's home feels fresh and hip, while also staying warm and personal. Just by looking around their main living room you can really get a sense of who they are and what's important to them. Their shared love for music brought them together when they first met, and is now represented by the large record display cabinet dividing the "entry" from the "living room". Comprised of an IKEA Expedit bookcase, alphabetical tabs, and an extensive collection of old records; this statement wall provides the perfect conversational piece in their main living area. 
Apartment Therapy Survey:
Our Style: Modern. Clean lines and bright, open spaces. 
Inspiration: Pinterest, Apartment Therapy, Design Sponge, and Remodelista. I'm a sucker for white rooms and gold/brass and bright color accents.
Favorite Element: It's hiding under snow right now, but our backyard. In the summer and fall we love to have people over for parties and grilling and relaxing. Zach plants some great veggie gardens. I'm also partial to our lovely wood floors.
Biggest Challenge: It's a tie — One, managing the dog hair in this small space. Oliver sheds his weight in fur on a weekly basis. Two, closet/storage space. There is only one closet in the whole house, and it's our small, shared, bedroom clothes closet. We've learned to minimize down to what the two of us really need. We use vertical shelving, bought a bed with storage drawers, and we use our cellar and shed for seasonal and less frequently used items.
What Friends Say: Well, we've heard the word "cute" a lot. I suppose it comes with the territory of owning a little house. However, I am proud to say we can fit a ton of people in here for a good party. Zach and I have the most amazing group of friends here in Denver and we love to entertain (go figure — a beer brewer/cooking enthusiast, and a party planner).
Biggest Embarrassment: Zach: the couch — it was a quick decision, and after a few years its pretty uncomfortable and isn't holding up to our lounging. Nicole: the bathroom (our next big project). It's overdue for some serious attention.
Proudest DIY: Our new shelving in the living room, and Zach's raised garden bed and hops trellis in the backyard (he can't wait for this spring snow to take a hike).
Biggest Indulgence: We had a small dishwasher and gas stove/gas line installed right when we purchased the house. Zach cooks a lot, and he tore that old electric stove out immediately. Also, our record collection. Oh man.
Best Advice: Don't be afraid to get rid of stuff. With a house this size, clutter adds up fast, and it can get overwhelming. Sometimes you need to take a critical eye to your rooms and belongings, and purge. Re-sell or donate, of course!
Dream Sources: Handmade furniture makers, Room & Board, Crate & Barrel/CB2, West Elm, Ferm Living, an ELFA closet-system, and we could really use some professional custom framing of the many concert posters and prints we've collected over the years. 
Resources of Note:
PAINT & COLORS
• Mystery paint colors from the last owners.
ENTRY
Desk: IKEA
Black Shell Chair: Overstock.coHanging Wall files - CB2
Coat Rack: CB2
LIVING ROOM
Couch - Cost Plus World Market
Rolling Carts, Lamp and Light Fixture, Locker Cabinet, Bar Cart, Stools, CouchPillows & Curtains - IKEAShelving - IKEA (we spray-painted the brackets gold and kept the wood unstained)
Rolling Carts, Lamp and Light Fixture, Locker Cabinet, Bar Cart, Stools, Couch, Pillows and Curtains: IKEA
Pirate Print: The Pirate Store at 826 Valencia
Cardboard Moose Head: Cardboard Safari
White Shell Chairs: Overstock.com
Chair Pillows: CB2 (bird), handmade by a friend (plaid heart)
Pouf: Fab.com
Leather Swivel chair (no markings): MidMod & More, Denver
DINING ROOM
• Table, Chairs, Bench: IKEA
• Record Shelf - EXPEDIT: IKEA
KITCHEN
• Island: Cost Plus World Market
BEDROOM
Bed, Lamps & Hanging Light, Dresser: IKE
• Shelving: Cost Plus World Market, Target
• Metal Office Chair: MidMod & More, Denver
• Pillows: CB2 and Target
BATHROOM
• Shower Curtain: Target
LAUNDRY ROOM
• Shelving and Curtains: IKEA
Thanks, Nicole & Zach!
(Images: Kathryn Bacalis)
• HOUSE TOUR ARCHIVE: Check out past house tours here.
• Interested in sharing your home with Apartment Therapy? Contact the editors through our House Tour Submission Form.
• Are you a designer/architect/decorator interested in sharing a residential project with Apartment Therapy readers? Contact the editors through our Professional Submission Form.