Nina's "Peaceful Sanctuary"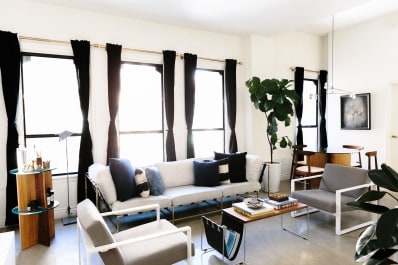 Name: Nina Hans of Weekday Studio
Location: Los Angeles, California
My husband and I live in a one bedroom apartment in Downtown L.A. above Grand Central Market. It's walking distance to our studio and it's filled with beautiful furniture from our clients and friends.
We love staying in hotels and we wanted our place to feel the same sort of peace and ease when walking in. L.A. can be crazy and our work is colorful, so we wanted a peaceful sanctuary from the businesses of life.
Thanks, Nina!
• Interested in sharing your home with Apartment Therapy? Contact the editors through our House Tour & House Call Submission Form.