Northwest #1: Gursk's Home Office Makeover – Out With the IVAR, In With Space
Name: Gursk
Location: Vancouver
Time: 3 days
Cost: $1300
Tell us the tools and resources you used for the project:
4×6 sheet of 3/4 inch plywood, maple finish grade on 1 side

23 feet of maple finishing tape

Benjamin Moore Natural Linen Latex Paint

Benjamin Moore Natural Linen Oil Paint

4, 2-inch plastic grommets for cable management

2 feet IKEA RABALDER cable management tubing

Finishing Resources:

2 IKEA BJÄRNUM/ MOSSBY, wall shelves

2 IKEA UDDEN, wall shelves

1 IKEA Vika Byske adjustable table leg

LCD monitor mount (Vantage Point model V139-1022)

Keyboard tray & mechanism

Reused Resources:

Lateral filing cabinet, painted black

1 IKEA CITTRA track light

Drill & assorted drill bits

2-inch hole saw bit for drill

Sawhorses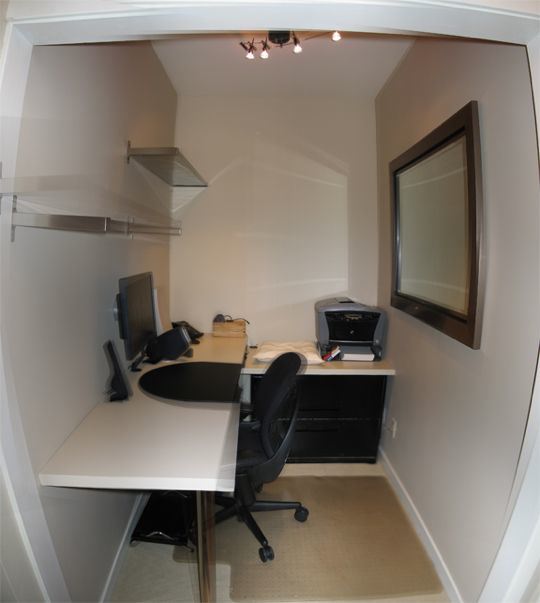 DURING

Share step-by-step instructions for how you completed the project:

Room prep:

1. Remove all items from office.

2. Repair any flaws in drywall with drywall compound, sanding between coats.

4. Paint room with 2 coats of latex paint.

Desk construction:

1. At lumber supply store, have wood cut.
Plywood: cut 1 sheet 2 pieces, approximately 6X2, and 4×2 1X1 cut into lengths that will run along perimeter edges of desk, 2-2 foot pieces, 1 6 foot piece and 1 4 foot piece.

3. Using drill bit, pre-drill pilot holes into bottom side of 1×1 wood. These will be used to attach the 1×1 pieces to the lower perimeter of the desk to prevent warping.

4. Line 1×1 pieces up with outer edges of the unfinished side of plywood. Screw 1×1 into plywood.

5. Use and iron to apply wood tape to the outside edges you created by screwing the two pieces of wood together in step 4.

6. Fill any pits or flaws in wood with wood putty.

7. Prime top & sides of desktop pieces.

8. Paint top & sides of desktop pieces. Sand and add second coat, if desired.

9. Allow paint to cure 24 hours. This may take longer if you live in a humid place.

Mounting desk to wall:

1. Measure height for desktop and draw line on wall.

3. Using stud finder, locate studs and screw L-brackets onto wall level with the line you drew in step 1. If you cannot locate studs, use drywall anchors to attach L-brackets

4. Adjust the IKEA Vika Byske adjustable table leg so it's the same height as the line that you drew in step 1.

5. Attach table leg to outer corner of desktop. This will make the mounting the desktop to the wall easier, providing some support.

6. Place desktop on L-brackets and mark the underside of the desktop where each L bracket has been mounted to wall.

7. Place desktop back on floor and pre-drill pilot holes in the locations you marked in step 6. Make sure not to drill through the entire depth of the plywood.

8. Replace the desktop on L-brackets and screw desktop to brackets.

9. Adjust table leg so desktop is level.

10. Repeat for second arm of desktop, or use lateral filing cabinet to support it.

11. Install keyboard tray under desk.

Finishing steps:

1. Mount Wiremold, Plugmold Tough Multioutlet strip below desktop, within plug distance of an electrical outlet. This will make placing and connecting computer equipment MUCH easier.

2. Determine where you will place your telephone and computer equipment.

3. Use hole saw to drill holes for cables.

4. Place plastic grommets into new holes.

6. Place computer equipment & thread cables through grommets.

7. Mount IKEA BJÄRNUM/ MOSSBY and IKEA UDDEN wall shelves as per IKEA instructions. Make sure shelves are level!

8. Add mirror and other final dressing touches.
Published: Jan 23, 2008