No-Stress Neighborly Nosh: The Party Plan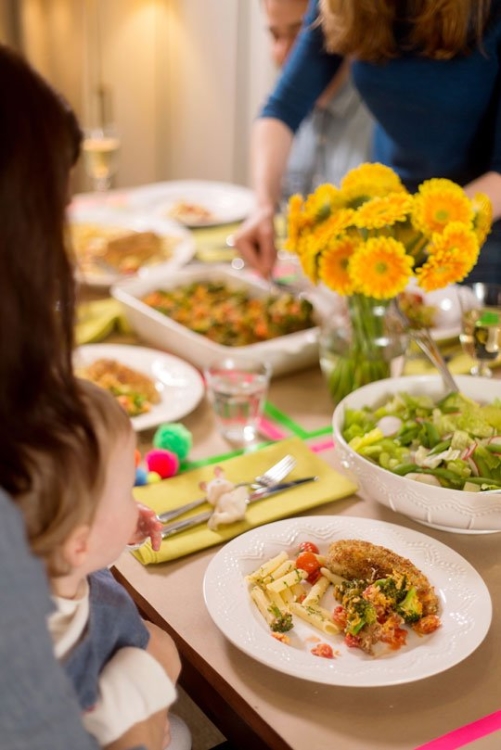 It's a dreary Wednesday, and my neighbor Molly is tired of being cooped up in her house with her two little girls. "Why don't you all come over tomorrow for a family dinner party?" I ask, almost without thinking about it. Everyone is excited, including my daughter, who likes being the 8-year-old babysitter-in-training, and we grown-ups are looking forward to a break in the routine.
But what to cook? And how to make this casual dinner party special while still keeping it fun and comfortable for the kids (and parents)? This week we'll be talking all about our easy family dinner party, and how you can throw one of your own. Today we'll start with the party plan!
The Party Idea: A Quick Weeknight (or Weekend!) Dinner with the Neighbors
My main goal for this dinner was to keep everyone relaxed and happy. That meant feeding the kids something delicious and keeping them busy enough that their parents could also eat and enjoy themselves. I also wanted to keep myself relaxed and happy, which meant coming up with a menu that both kids and parents would love, and that I could easily and quickly prepare after work.
At the same time, I wanted it to feel like a special evening. Not just another pizza night. Something that would make the typical family dinner stand out.
The Party Menu: A Balanced and Delicious Meal for All Ages
Since this was a family dinner, we served one course plus dessert, all family-style. The criteria: something impressive and scrumptious but quick and easy; something wholesome and balanced for the four adults, while also passing the Picky Toddler test; something that wouldn't require any special trips to the supermarket; something that would look colorful and vibrant on the table. Basically impossible, right?
For this Gathering from the Kitchn, we collaborated with KRAFT FRESH TAKE, a seasoned breadcrumb and cheese mixture that gives your everyday recipes the taste lift you're looking for. I honestly wish we had smell-o-vision for this post, that's how good this stuff smells. We put the FRESH TAKE Classic Four Cheese on top of a vegetable casserole, and the kids literally asked for thirds of their veggies. Not seconds, thirds!
We served the casserole with chicken breasts, lemony pasta with cherry tomatoes, and a simple but gorgeous green salad. The chicken was coated with FRESH TAKE Rosemary and Roasted Garlic. Once baked, it was such a standout, juicy and flavorful dish, that I can't wait to make it again. Especially since my husband reached over and stole half of my portion.
The Party Look: Colorful and Kid-Proof
To both protect the table and give the kiddies something to occupy them and keep them at the table during dinner, we laid kraft paper down and secured it with lines of neon tape. We then put crayons by the kids' place settings, and let them scribble away once they got there.
Honestly, it looked so good, I might do it again for a grown-up party, maybe using a different color or patterned tape (my striped glittery washi tape maybe?). You might think I'm crazy for using cloth napkins for a kids' dinner, but these go right in the washer, and were just so cheerful against the kraft background. No table is complete without flowers, and a bunch of simple daisies were the perfect family-friendly centerpiece for our party.
Best of all, the table was incredibly easy to set and clean up. Even a rather drastic water spill was easily contained and absorbed by the paper. My daughter loved helping out with the tape, and all three kids were thrilled to be able to draw on the table!
On Wednesday, we'll be sharing the original vegetable bake we created using KRAFT FRESH TAKE. And stay tuned for Friday, when we'll show you how it all came together.
Comments have been disabled.