Confessions of an Uptight Hostess: A November Letter From the Editor
We
independently
select these products—if you buy from one of our links, we may earn a commission. All prices were accurate at the time of publishing.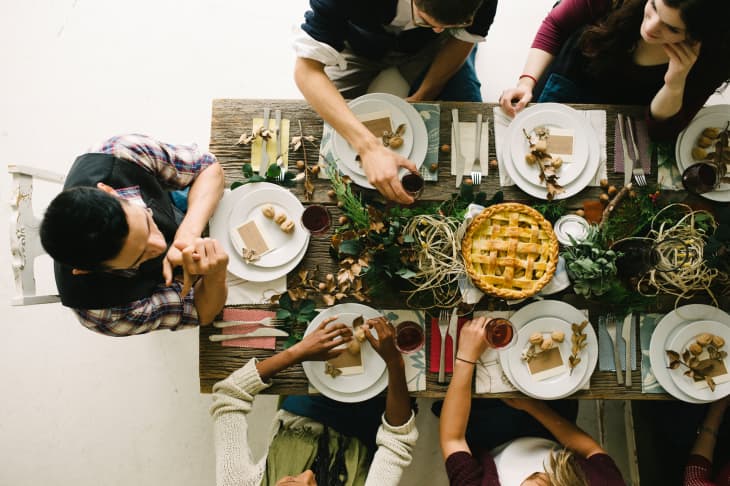 I hosted a little get-together at my apartment last night to toast my sister completing the NYC marathon (go Jessy!). In theory, it should have been a relatively simple affair: some sparkling wine, maybe a cheese plate, and that's it? But instead, I turned it into a three-tabbed planning spreadsheet, trying to think of every detail to both celebrate her and make our guests comfortable in my small space.
I love hosting parties (I once helped to plan five bachelorette parties in a year, and now I've moved onto the baby shower beat). But I wouldn't say I'm a chill hostess, even with the more low-key get togethers like board game nights or "Bachelor" premiere parties. Inviting people into your home is inherently vulnerable. Will they judge my mail pile? Why don't I ever have enough room for all of the coats? What if I run out of food? What if there physically isn't space for everyone? What if the temperature is all wrong? Sometimes all of the What Ifs are enough to make me suggest going out over staying in.
To help, later this month we're introducing a new package called Easy Untertaining—a philosophy that redefines what it really means to entertain, and suggests a more laid-back roadmap. As part of it, we'll help you identify your hosting hangups (for me: my small space), and then overcome it. I already know it'll help if you similarly struggle with entertaining in a small space; we had one of our planning meetings just in time to save me from my three-tabbed spreadsheet hell last week. One sneak peek from our lifestyle director Taryn Williford: open the party with something fun your guests will see right away. I tried it out by using my entryway table to serve pre-poured champagne (as added bonus, it gave me an excuse to stash the mail pile). I also ordered a collapsible garment rack to keep the coats out in the hallway of my building, which allowed me to really make my entry part of the party.
It's a little cliché, but the point of hosting is less about showing off your home than opening it up so that people can gather and connect. No matter what's holding you back, I hope you find some helpful advice in Easy Untertaining.
Throughout the month, we'll be looking at the theme of gathering in other ways, as well. For starters, this week, we'll have a look at the trend of co-living, and how it has evolved to what it is today. Heading into the start of the holiday season, we'll also look at smart travel tips, start releasing our official gift guides, and release our first-ever dollar dinner party. Later this week, we are releasing a whole new way to find the perfect present. We're calling it Gifting Therapy, and hope it will solve some of your problems this holiday season.
I'm wishing you all a happy November and Thanksgiving. This year, I'm grateful for so many things, including a safe, beautiful home to call my own. I'm also grateful for the Apartment Therapy community, including our editorial team, our readers, and the people who generously share their homes with our audience every single day.
What about you? What are you hosting this year? And what are you thankful for?
Our letter from the editor series appears the first Monday of every month