This Grimy Pre-War Apartment is Now a New York Success Story
We
independently
select these products—if you buy from one of our links, we may earn a commission. All prices were accurate at the time of publishing.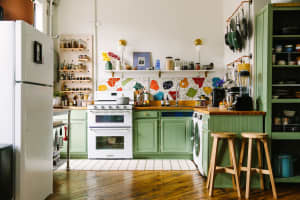 Can't-Miss House Tours Straight to Your Inbox
Keep up with our latest house tours each weekday with our House Tour of the Day newsletter
Name: Sarah
Location: New York, New York
The basics: 10 months, owned — 750 square feet
Sure Sarah's one bedroom, pre-war apartment certainly looks stylish and welcoming now, but before she got her hands on it, it left much to be desired. After many months of contentious building and planning her home is a bright, light oasis in the city.
Tell us a little (or a lot) about your home and the people who live there: My little home was a true labor of love. When I bought it, it was SVU-style scary. It hadn't been touched since it was built in the late 1920s. The bathroom tiles (once white) were a "lovely" shade of yellow. There were water stains all over the beautiful hardwood floors. The fridge was taped shut and featured a big sign that read ,"DO NOT OPEN." It was dark, it was grotty, it gave me the heebie-jeebies. But, my broker convinced me it was a diamond in the rough: a pre-war apartment in a beautiful art deco building (with an elevator!). What could be bad?
It took six months of paperwork, six months of renovation, a combined 12 months of INTENSE MANSPLAINING, but in the end, I got what I'd been dreaming of: a home that was entirely my own. I share it with my 9-year-old tabby cat, Penny Lane, who has lived in her fair share of small, dark NYC apartments and loves that our new home comes with lots of light and biiiig windows from which she can meow at pigeons and squirrels.
What is your favorite room and why? The kitchen, every ounce of which I designed all on my own. When I purchased the cement tile for the floor, my contractor told me I was crazy. They were too expensive! Too hard to maintain! Too hard to install! Too trendy! Simple tiles, he said, had better resale value. My response? #thanksbutnothanks. I explained that I wasn't designing the apartment for resale, I was designing it for ME. In the tiles went. Every time I see them, I feel happy. Yes, they're a pain in the butt to clean, but they're worth it. I spend most of my time at home in the kitchen (I'm a big cook and an even bigger baker), so it was where I spent most of my renovation budget. And while there are a few small things I'd change if I could go back in time, I don't feel like I wasted a single penny.
If you could magically change something about your home, what would it be? I wish I had a true open concept space. The layout of my (small) one-bedroom means that even after taking down a wall and removing a closet, my kitchen isn't totally open to the living room. I have a little mini breakfast bar that makes for a better sight line between the two spaces, but it's not entirely open. A girl can dream!
What's the last thing you bought (or found!) for your home? Fresh flowers. They're my weekly indulgence (I love you, Union Square greenmarket!), and I feel like they make any home a million times brighter. I'm also a big fan of candles (really of anything that smells good), and recently bought this one, from Kestrel in my hometown of Northampton, Massachusetts that I adore.
Which fictional character would be most at home in your place? I feel silly saying this, but if 30-year-old Carrie Bradshaw moved to New York in 2017, I think she'd be down on the Lower East Side, convincing Samantha to come drink cheap drinks at 169 bar, and cracking jokes with the old crazy guy that lives next to me.
Sarah's words of wisdom: Create a home that YOU love. Don't feel pressured to follow trends, don't succumb to the Kondo method if you're more of a maximalist. As my girl Kacey Musgraves says, follow your arrow. Create a space that makes you feel grounded, a place you can relax into at the end of a hard day. if you do that, the design will follow.