This Eccentric Diagonal Cabin Will Remind You of a Tetris Block
We
independently
select these products—if you buy from one of our links, we may earn a commission. All prices were accurate at the time of publishing.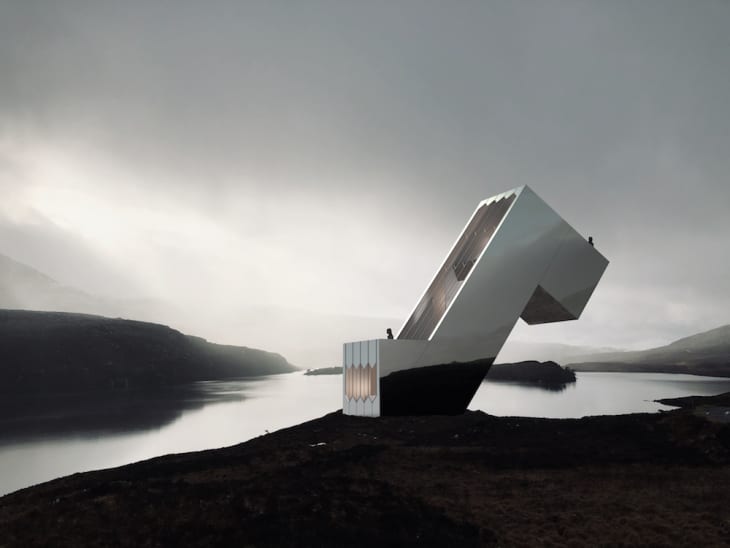 An unconventional, gravity-defying cabin will evoke one of your favorite games from the late 1980s. NYDE Studio, a London-based design studio founded by Nicos Yiatros, has created an eccentric luxury prefabricated cabin called the Diagonal Dwelling—and the very architectural foundation of it will remind you of a Tetris block. The Diagonal Dwelling has an unorthodox and, well, diagonal shape, but the abode is fully functional and even accommodates quite a few luxuries. (Hello, hot tub!)
The three-story dwelling has a scenic hot tub, an elevated terrace, a compact kitchenette, a bedroom with a mini-bar, and a living space with a daybed and a fireplace. It's set at 55 degrees for solar panel optimization, and it aims to provide guests with a sustainable, off-the-grid experience with its minimal carbon footprint. The cabin can be fabricated within 20 weeks and installed on site in less than 10 days once it's shipped to location. Initially designed for the Scottish highlands, the Diagonal Dwelling can be constructed just about anywhere. 
NYDE's sophisticated design aims to enhance the guest experience with scenic views that can be enjoyed from three different levels. Perhaps the most notable feature is the elevated bed on the second floor, which gives a sensation of floating over the landscape. The entire structure looks more like an art installation than a luxury cabin. 
In any case, we'll be thinking about NYDE's eccentric, gravity-defying Diagonal Dwelling for quite some time now—especially the next time we decide to engage in a spirited game of Tetris.