If You Love to Travel, You Should Know About 'Shoulder Season'
We independently select these products—if you buy from one of our links, we may earn a commission. All prices were accurate at the time of publishing.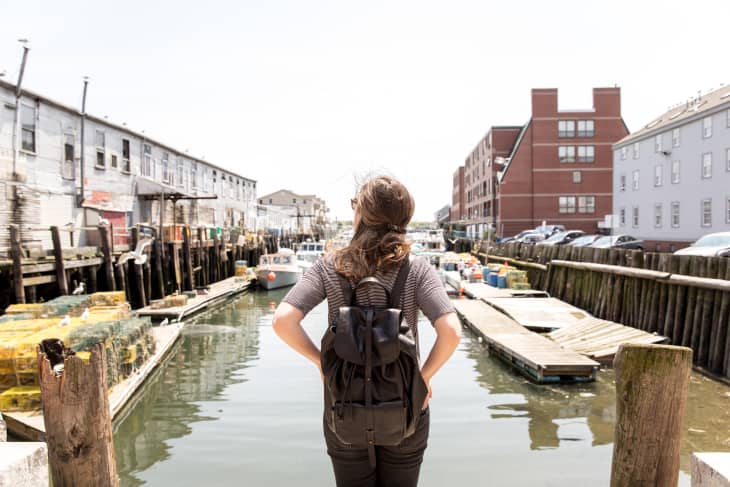 PSA: There's a word for "I love going on vacation, but I really would rather not with crowds." It's called "shoulder season" and it really speaks to us folks who like going on tours without mobs of people, hitting up the beach without half the world's population there with you on the sand, and trying new food without waiting over 40 minutes for a table. Best of all, prices for lodging and airfare are way cheaper — giving you an excuse to splurge a little more on that luggage you've been eyeing. 
Follow Topics for more like this
Follow for more stories like this
While most of the year's traveling happens in summer and winter, there's been an uptick in travelers who have made plans for Beatenberg, Switzerland and Obertraun, Austria this fall—just to miss the crowds.
Parts of Europe aren't the only spots anti-crowd travelers are flying to. According to Airbnb's fall travel trend report, bookings in Culebra, Puerto Rico are up 250 percent. Miguel Hidalgo in Mexico City, and Tepoztlán are seeing similar numbers. Not only do people get to miss the packed busses, restaurants, and beaches, but they get to enjoy milder weather, too. 
Interested in a more chill (in all the ways) vacation? Check out these gorgeous Airbnb locations in Mexico City.
Apartment in La Condesa, Mexico City that sleeps 4, $53/night
This gorgeous 1-bedroom has two beds for guests and one bathroom. The space has state-of-the-art decor that feels ultra luxurious, a kitchen for all of your cooking and baking needs, a living room with a TV and double sofa bed, internet, cable (and Netflix, obvs), a full-sized bathroom, access to a washer and dryer, and a peaceful outdoor area that's perfect for a quaint happy hour. 100 percent of the guests have given this Airbnb rental 5 stars.
Bungalow in Tepoztlán, Mexico City that sleeps 4, $117/night
,Anyone with an eye for architecture will love this modern beauty. Equipped with two bedrooms and one bathroom, a hammock so you can catch up on reading with a glass of wine, a kitchen, pretty green views, this rental is located in a quiet spot in the outskirts of Mexico City. You'll be walking distance from the subway, so you're minutes away from landmarks and cafes.
Off-grid villa in Culebra, Mexico City that sleeps 3, $150/night
If you really need to get away from everything, this villa will make you feel like nothing else matters except you and its breathtaking ocean view. The private, 6-acre property overlooks Ensenada Honda, Vieques, and Puerto Rico. Inside, guests will have a queen bed, twin futon,  full kitchen, and a balcony with a hammock. This Airbnb provides you with beach towels, so you really have no excuse not to go for a swim.
Loft in Roma-Condesa, Mexico City that sleeps 3, $43/night
This 1-bedroom loft has two beds, a kitchen, spacious bathroom, plenty of plants, a living room to entertain, and a balcony. The perfect distance from art galleries and cafes (the subway is minutes away), this space is quiet and cozy—perfect for a chill, fall vacation.