The One (Under $5) Thing You Need to Instantly Elevate Your Kitchen Cabinets
We independently select these products—if you buy from one of our links, we may earn a commission. All prices were accurate at the time of publishing.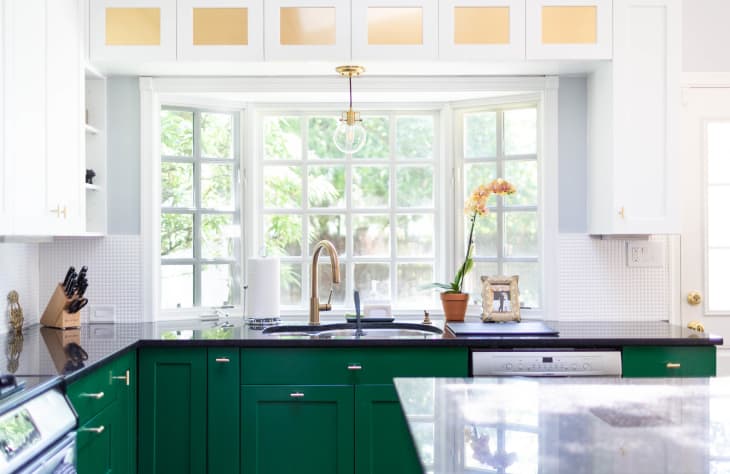 Because a kitchen overhaul is one of the most expensive reno projects you can take on, it's easy to understand why you might want to cut corners here and there. And some cost reductions are perfectly justifiable — like eliminating uppers and opting for on-trend open shelving instead, or using IKEA boxes and ordering custom door and drawer fronts and hardware instead of going entirely custom. 
But there's one thing you definitely shouldn't nix from your budget: soft-close hinges. "Not only do soft close hinges make a cabinet feel more luxurious like a custom piece, they also help to extend their life," says Tobie Earley, owner of and lead designer at Happy Hive Design. "Soft-close hinges prevent the doors from slamming into the frames, which eliminates stress fractures, chipping, dents, and the doors from coming off-kilter." 
Follow Topics for more like this
Follow for more stories like this
Of course, the most permanent solution is to buy cabinets that come outfitted with soft close hinges, but what if you truly don't have any wiggle room in your budget for elevated extras? If you can't swing prefabricated or custom soft-close cabinets, Amazon sells an inexpensive after-market add-on. This product, which comes in packs ranging from one unit to 50, screws neatly into the underside of your cabinet's top corner, where the frame meets the door; once installed, it slows the close of whatever cabinet doors you already have. That means that with just a drill and a couple of minutes per door, you can create an elevated soft-close functionality for as little as $3.20 per piece. 
And while this is a great option for new builds and redos, it's also a good solution to put a temporary fix on any existing cabinetry — even if you don't have any major upgrades in the works. This little piece of hardware is also extremely renter-friendly since you'll only need one screw (and the hole you leave behind is easy to fill). As a result, you'll be able to enjoy the benefits while in residence; once you're ready to move, you can uninstall the pieces in a matter of minutes so you can take them with you to your next place. 
This soft-close accessory isn't limited to kitchens. You can also use this small-but-mighty accessory to upgrade any other cabinets you may have in the house, whether in your bathroom, laundry room, or even on furniture like built-ins or media cabinets.
Hear that? That's the quiet whisper of your doors gently gliding shut.