Online Furniture Finds from Real Studios & Small Homes
Placement is important when laying out the furniture elements of a studio apartment. But one big key to successful and enjoyable studio living (while also looking stylish) is which furniture pieces and accessories you choose. Don't let your next shopping trip be a guessing game. All the studio apartments in this post are aesthetically pleasing, but they also master the "mix": They're full of furniture and accessories that function as well as they look.
Take a page out of these studio dwellers' shopping lists and snag some of the pieces they bought below. After all — they've done the test driving of these products for you, and you can see how these items look in real homes (not just in catalogs!). Seeing how beautifully these studio apartments look and function might even be better than skimming online customer reviews.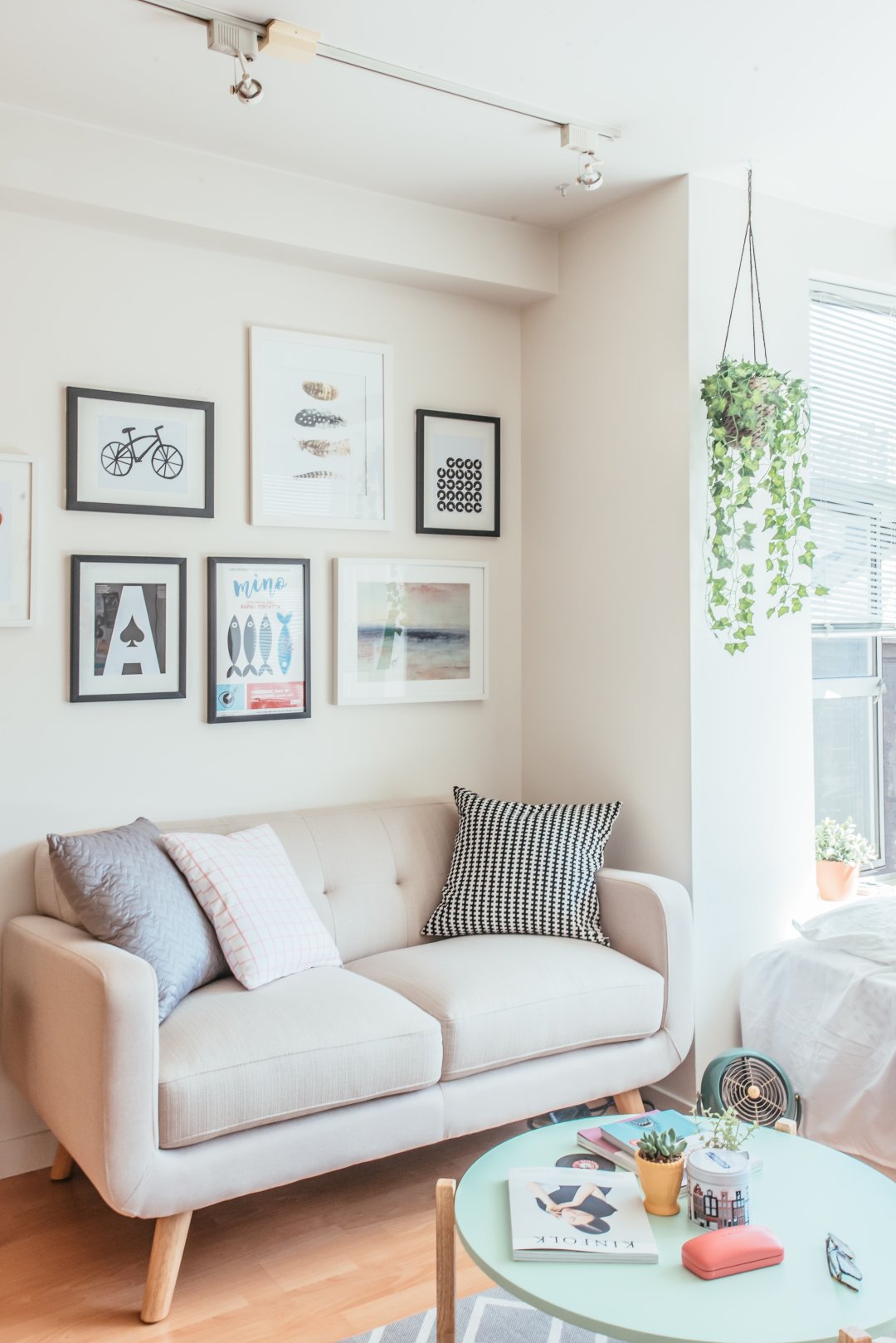 When it comes to crafting a living room space out of a one-room studio, go for a sofa small in stature but comfy. This sofa in Cindy's San Francisco studio apartment is compact in size, but creates a seating nook that distinguishes itself. The tall legs keep the piece from feeling too bulky in such a small space, as does choosing an upholstery color that's similar to the wall color, helping the large furniture piece blend in.
Do you spot the other smart small space solution in Cindy's space? Hang your plants from the ceiling to add greenery and save valuable floor space. The planter shown above is super affordable — under $10 !
---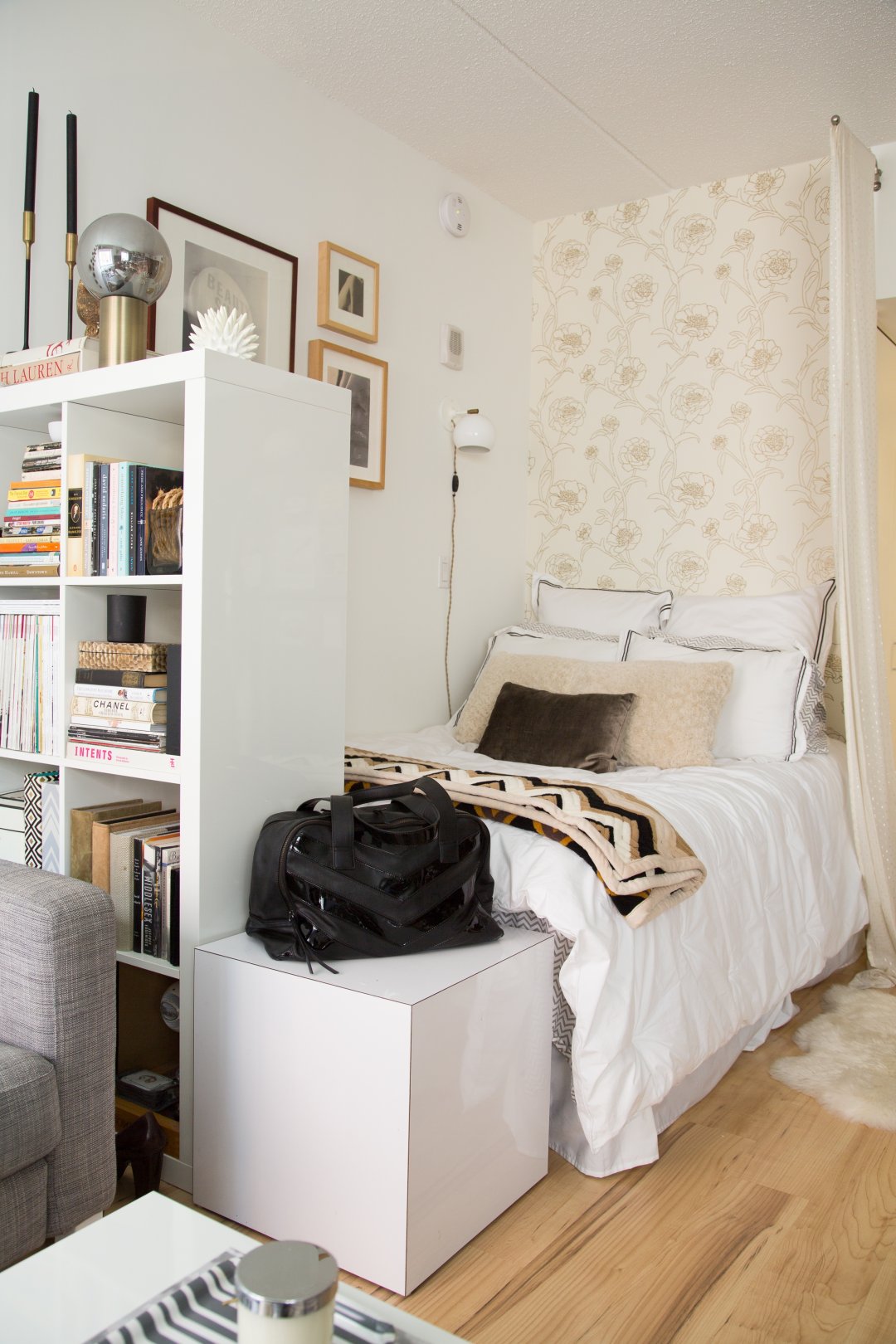 One of the worst parts about living in a studio apartment is not having a separate bedroom. But you can craft your own bedroom space if you choose the right items. Amelia proves this is true in her tiny NYC apartment.
For instance, a repurposed shower rod-turned dividing curtain helps hide the bed. Using wallpaper on one wall visually separates the space. An affordable shelf literally separates the space. Lots of textured bedding means you can get away with accessorizing less. And installing a wall-mounted light means you don't need a nightstand for a table lamp.
---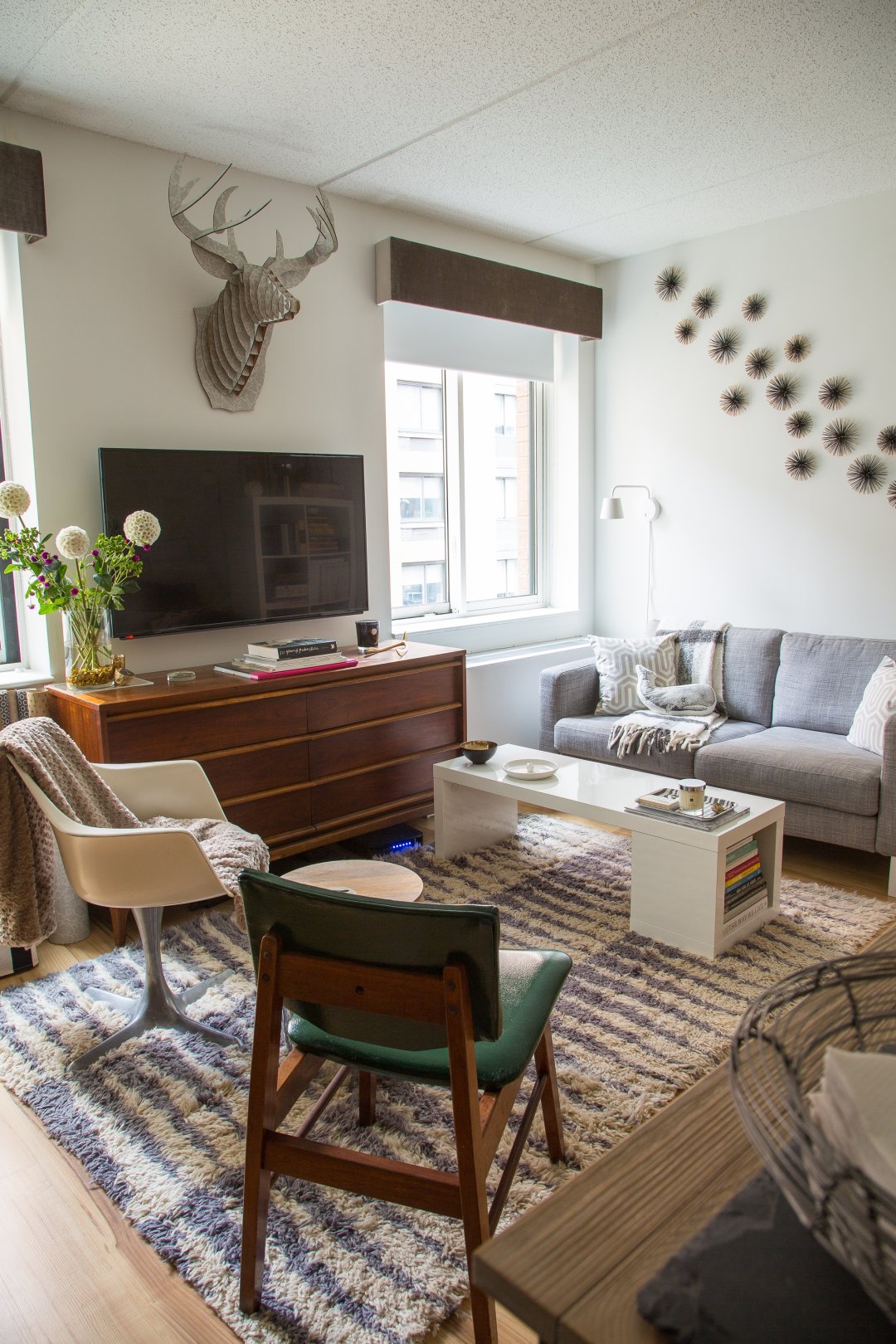 Amelia's bed area isn't the only spot with smart furniture buys. Her living area also has an array of items that would make any studio or small space function better. The sofa is compact, leggy and cozy. The coffee table is narrow, with a thin profile and also has room for storage. Instead of a media center, she chose a tall dresser that acts as storage for her clothing. Even choosing dining chairs as side chairs provides seating — while not taking up as much space as a heftier lounge chair might.
Learn more from Amelia's small space wisdom! This designer's hidden smart storage ideas are all over her apartment.
---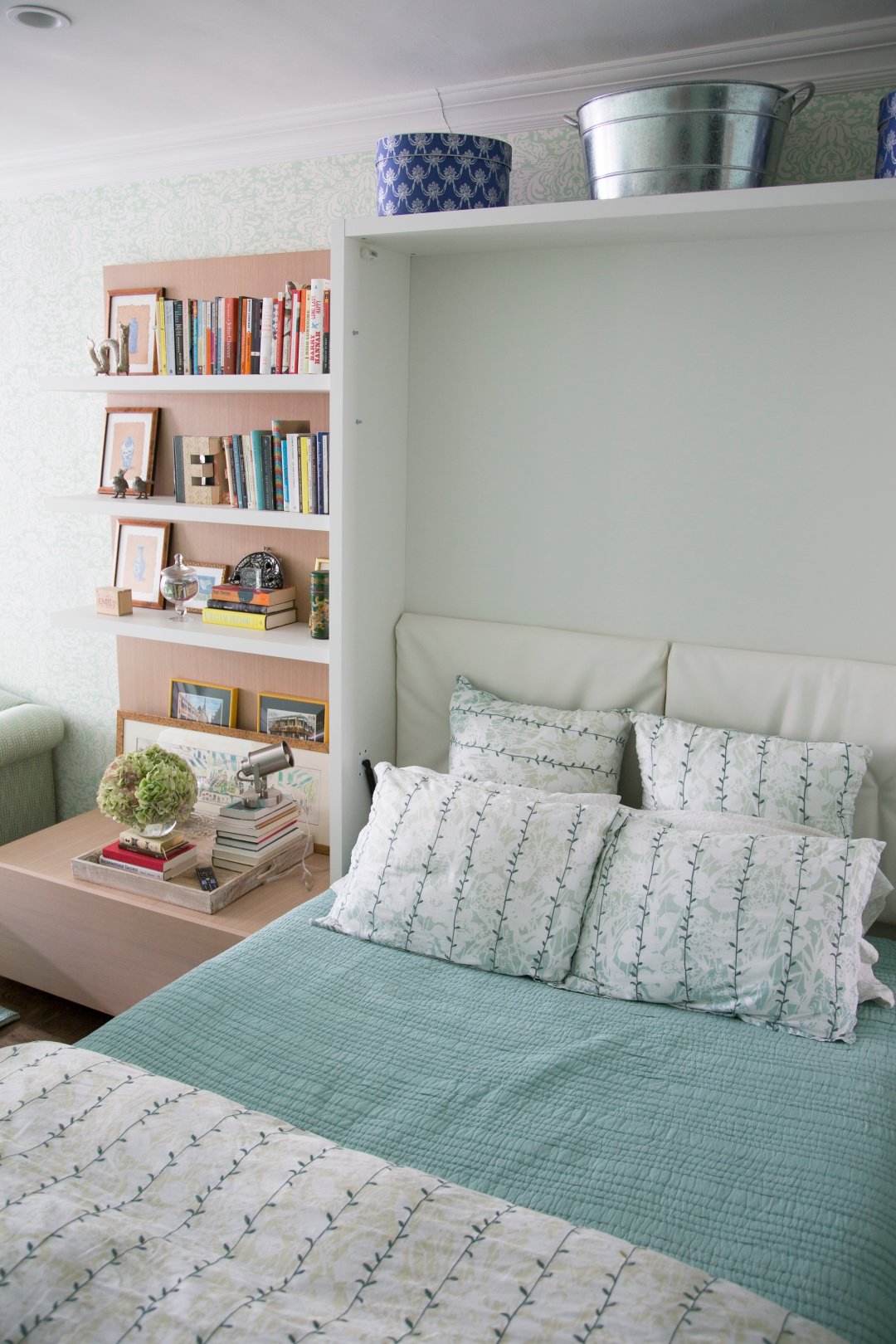 Emily's lack of bedroom walls in her studio apartment doesn't get in the way of her carving out a great bedroom space, thanks in no small part to the Murphy bed she incorporated. (Which, yes, you can totally buy). But other things make her bedroom area successful, too. The floating shelves add display space without feeling too imposing. And the top of the Murphy bed is wisely transformed into extra storage thanks to the addition of metal buckets (a fresh alternative to the often-used storage basket).
---
---
Apartment Therapy supports our readers with carefully chosen product recommendations to improve life at home. You support us through our independently chosen links, many of which earn us a commission.