Online Inspiration for Kids Rooms: 10 Good Bookmarks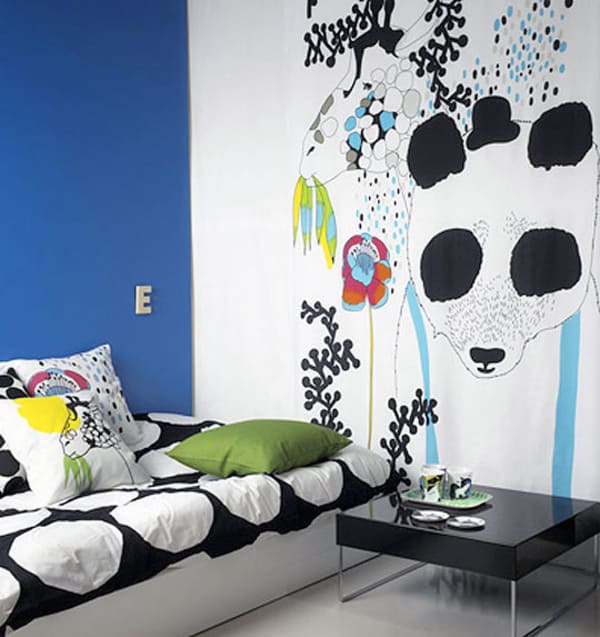 If you're decorating a nursery or planning to redo a child's room, stores with beautifully photographed catalogs can be rich sources of inspiration. We're not talking about the Pottery Barn or Crate & Barrel catalog, but rather stores with a unique sense of style that you might not see everyday.
Marimekko
This Finnish design house is known for their bright patterns, and their site is worth browsing for nursery and kids' room ideas — especially if you're looking for color inspiration. They also have a collection of children's bedding, textiles, and dishes.
Bonbon Compact Living
Located in London, BonBon specializes in wall-mounted and murphy beds, some of which double as sofas, office desks, and storage units. Their website is definitely worth checking out for smart and colorful concepts for a kid's room.
Castor & Chouca
This French Design studio created their collection in collaboration with nurses, mothers and hospital staff. These pieces aren't just easy on the eyes, they were created with safety, sustainability and health in mind.
Laurette
Designed by French couple Laure and David Bailleux, Laurette's collection is inspired by vintage children's furniture. The palette is a little different than the nursery pastels and brights we see so much of here in America — look for lots of sophisticated grays and plums.
Bianca and Family
We wish this shop were here in the US, but it's the kind of place that could probably only exist in France. The expertly curated online catalog feels like a collection that's been built over many years of trips to French flea markets.
Bodie & Fou
Online shop Bodie & Fou is named for its two founding sisters — Elodie (Bodie) and Karine (Fou). Based in London, the two ladies have an eye for inspiring European and French design. Browse here for furniture, bedding, art, and décor, as well as a line of children's clothing.
Three Potato Four
Run by Janet Morales & Stu Eli, this shop is full of inspiring vintage finds. The photography is so good that just perusing the site is a truly enjoyable experience — whether you're actively shopping or not, it's definitely worth a look.
SPI Baby
Los Angeles-based designers Sarah Shetter and Alison Pavetsky just launched a new line of children's furniture that's designed to make the transition from nursery all the way up to teen room. The line is bright and playful without feeling too babyish.
Bu and the Duck
New York store Bu and the Duck is a lot of fun to browse online. The website's charming design displays products like favorite photographs hanging in vintage frames, and you'll find lots of unexpected items.
ga ga
A brand new baby boutique in Austin, Texas, Ga Ga's site is full of gorgeous photos. They sell toys, furniture, baby gear, gifts, and clothes from some of our favorite modern manufacturers, including Oeuf, Muu, P'kolino, Dwellstudio, and Skip Hop.
RELATED
• Out of the Ordinary Online Inspiration
• 8 Amazing Small Space Resources to Bookmark
• Best Store Blogs: Inspiration from the Field

Photo: Marimekko