Here Are Some of Oprah's Favorite Things for Your Home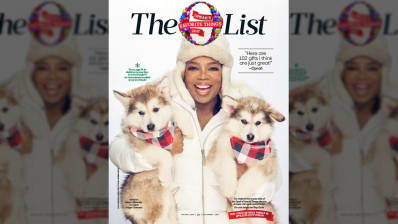 (Image credit: O Magazine)
Brace yourselves for it is the most wondrous time of the year. Oprah Gail Winfrey has yet again pulled herself away from lush garden, put down her delicious Alaskan beer and taken a break from eating Pinkberry with Ava Duvernay to bring us her FAVORITE THINNNNNGGGGGGGGS.
You can find the full list here, but we've pulled out a few of our fave favorite things for the home. Ranging from the super luxurious to the practical, these picks make great gifts for the special folks on your list but also work as an excellent way to treat yourself.
L'OBJET Bois Sauvage Bath Salt, $150
Let the luxury wash over you with these rejuvenating bath salts. Oprah loves them because "the black-violet glass bottles help the natural extracts and dried botanicals in these bath salts maintain their potency, but I just like the sophisticated design (the large one is grand at 68 ounces) and three exquisite scents."
Canvas Home Tinware 16oz Mug Set of 4, $48
These durable and colorful stoneware mugs have a charmingly rustic vibe that makes an excellent addition to anyone who is looking to add some cabin style to their kitchen.
Yellow Leaf Hammocks, $199
We love the look of an indoor hammock and these Yellow Leaf Hammocks come in six different colors and patterns and even have their own travel bag to help you relax wherever you go.
Finesse, The Store Scented Candles by Joya, $214 for set of four, $64 individually
These soy candles are the result of a collaboration between Joya, a Brooklyn based fragrance house, and the creative team behind the Thomas Keller Restaurant Group. Each of the candles is the signature scent of one of the group's renowned restaurants. Designed with sustainability in mind, each of the scents were built from scratch from over 120 raw materials.
---
OPRAH GIF BREAK
---
The Magnolia Company Tree Olive, $64
The olive tree is the symbol of abundance, peace and friendship so it clearly makes an excellent gift for the plant enthusiast in your life. For maximum Oprah-ness, move them indoors. "Yes, I have olive trees in my bedroom. Everyone said they'd never make it, but I keep them turned to the light and they get bigger every day."
Footnanny Linen Gift Set, $50
"Everybody loves the smell of clean. How they got it in a bottle, I'll never know."—Oprah
LSA International Shot Serving Set & Oak Paddle, $185
This serving set is high impact with minimal effort, perfect for a non-mixologist who loves to entertain. Oprah describes the elegant set as "a perfect excuse to throw a party."
These are just a few of our favorites, be sure to check out the full list for even more delightful finds. Thanks, O!
Apartment Therapy supports our readers with carefully chosen product recommendations to improve life at home. You support us through our independently chosen links, many of which earn us a commission.