This $60 Cleaning Tool Scrubs My Kitchen Floors in Ways My Mop Can't
We
independently
select these products—if you buy from one of our links, we may earn a commission. All prices were accurate at the time of publishing.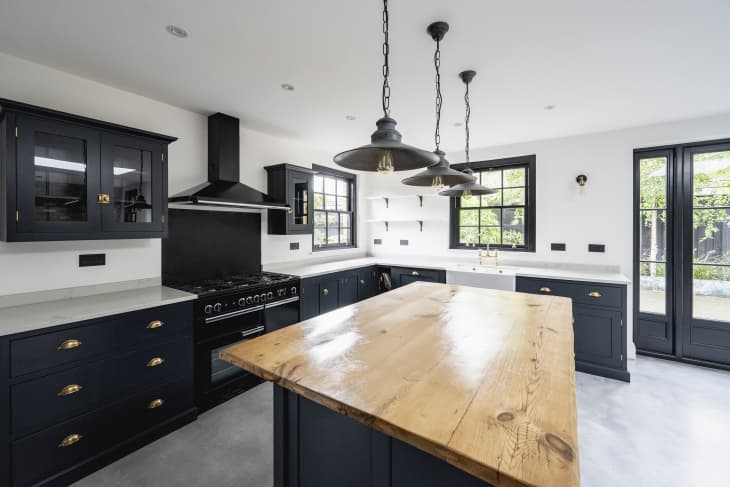 The sealed concrete floors in my apartment, while unique and edgy, pose a bit of a challenge to clean thoroughly. The staining on the floors, in particular, makes it hard to perfectly determine what's dirt and what's design. Although I use a steam mop for deep cleanings, and a spin mop for light cleaning and spills, I decided to search for something heavy-duty that could scrub my floors thoroughly in a way neither of my mops can. 
In my search for this seemingly miraculous cleaning tool, I stumbled upon the Oraimo Electric Spin Scrubber. While this seemed like a cleaning tool more fitted to bathrooms, tile, and grout, I thought it could get the job done. I also figured that because it came with three detachable heads, one of them was bound to get my floors clean. 
I decided to use this scrubber on a specific part of my kitchen, right in front of the stove, as this has always been the most visually dirty area of my entire apartment. I used a few sprays of my favorite natural floor cleaner and a drop of dish soap mixed with a quarter cup of warm water in order tackle all of the grime and dirt. 
First, I used the flat brush head. I noticed that although the length is adjustable and comfortable for my five-foot frame, it might not be the most comfortable option for tall people. I also noticed that I needed to have a firm grip and pressure on the handle to keep it from spinning out of control. 
I started cleaning this small section and was pleased with the amount of dirt that was being scrubbed off. However, I was most impressed when I changed the brush head to the pointed one used for corners and baseboards. Neither of my mops can thoroughly clean the edges and corners of my cabinets or any other of these tight crevices. With just two passes, this pointed brush head was able to get rid of all the dirt, crumbs, and grime that had been lurking there for a while. 
Once I was done, I simply rinsed both brush heads with warm water and placed them in the mesh drying bag to air-dry. The scrubber itself is slim and vertical so I can easily store it behind my kitchen cart, but it also comes with a hook to hang on a utility closet door. It's also cordless and rechargeable. 
With this tool, I'll be able to deep clean my finicky concrete floors, from my kitchen to the bathroom, including those always-forgotten corners in need of some TLC.