The Shape of Water Just Took Home the Oscar for Best Production Design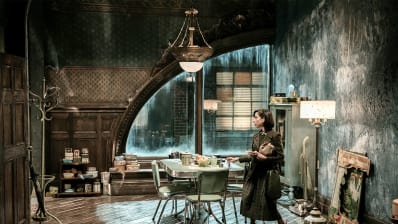 (Image credit: FOX Searchlight)
While Best Picture might seem like the Sunday's most hotly awaited Oscar, at Apartment Therapy, we're all about the Academy Award for Best Production Design. And the Oscar goes to—The Shape of Water (which, not to brag, we kind of called).
The category has pretty much been a two-pony race leading up to the event. And with both frontrunners—The Shape of Water and Blade Runner 2049—nabbing awards in their categories at the Art Directors' Guild Awards this weekend, it was anyone's guess who would take home the Oscar. In the end, voters opted for the design from the 1960s-set love-story-in-a-laboratory by Paul Denham Austerberry and set decorators Shane Vieau and Jeffrey A. Melvin for The Shape of Water.
The movie may be a monster fairy tale, but the design of that fantasy world is grounded in an industrial Cold War-era look with shades of noir. Because the protagonist, laboratory janitor Elisa (Sally Hawkins, also nominated for an Oscar, for Best Actress) falls for a monster-man who lives in water, a strong color palette of blues and greens were integral to the overall look and feel. Check out our deep dive into the film's interiors, from the laboratory to the interiors, here.
Austerberry, Vieau, and Melvin are all first time nominees. In his acceptance speech, Austerberry thanked his tireless, talented crew in Canada, as well as director Guillermo del Toro, who he encouraged to "keep dreaming up [his] monsters and their wonderful stories, so people like [them] can keep dreaming up their worlds."
Besides the retro-futuristic look of Blade Runner 2049, the team from The Shape of Water also beat out Beauty and the Beast, Dunkirk, and Darkest Hour, for the top prize.