Our Place Just Launched a Cast Iron Version of Their Viral Perfect Pot — Get It While You Can!
We independently select these products—if you buy from one of our links, we may earn a commission. All prices were accurate at the time of publishing.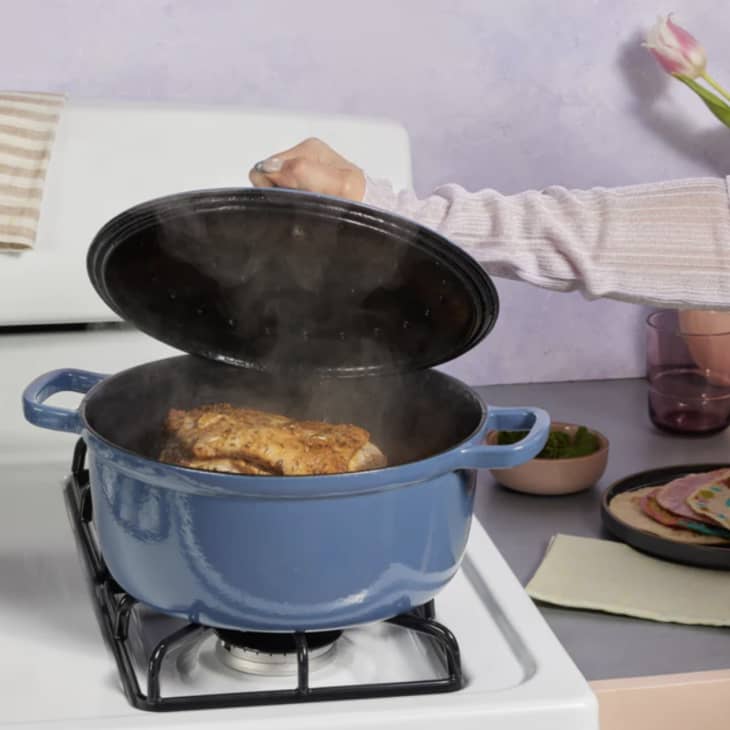 If you cook a lot at home — whether that's heating up Trader Joe's Mandarin Orange Chicken or sweating over Korean braised short ribs — there's a good chance you have a favorite burner, a preferred oven temperature, and (of course) a go-to pot or pan. For many of us at AT, and across the country, that favorite pot or pan comes from Our Place, the DTC brand that makes incredibly stylish and effective cookware, servingware, and kitchen tools. You've probably seen the do-it-all Always Pan on TikTok or Instagram, where it went viral as a space-saving solution for small and large kitchens alike that was so pretty, you could leave it on the stovetop as a form of kitchen decor. We also love the Always Pan's sister piece, the Perfect Pot, which is why we were so psyched when we saw that Our Place launched a limited-edition cast-iron version of it today! 
Follow Topics for more like this
Follow for more stories like this
Like the original Perfect Pot, the cast-iron version replaces a ton of traditional cookware pieces, including a stock pot, dutch oven, sauce pot, roasting rack, steamer, colander, braiser, and spoon rest. (That means more space in your cabinets, and less hassle when making weeknight meals.) It holds up to 5.5 quarts and comes with both a wooden spatula and hot grips, and is available in a slew of chic colorways, including Spice, Steam, Char, Sage, Lavender, and Blue Salt. Plus, it's made without PTFEs, PFOAs, other PFAS, as well as potentially toxic materials such as lead and cadmium. 
If you've cooked with enameled cast iron before, you know how versatile of a medium it is. (To be honest, if I could only have one piece of cookware for the rest of my life — besides the Cast Iron Perfect Pot, of course — it'd be my old, beat-up enameled Dutch oven.) So, what's so good about the premium enameled cast iron that Our Place uses in this new release? Well, for starters, it's super easy to clean, retains heat really well to avoid hot spots and scorching, and you can cook pretty much anything with it. Seriously: From searing steaks and caramelizing onions to frying eggs, boiling pasta, simmering soups and stews, and more, I don't think there's a more versatile cooking material out there. 
There are a ton of cool design features specific to the Cast Iron Perfect Pot, too, including a dome-shaped lid that's designed to self-baste, which makes it ideal for braised dishes you want to keep moist and juicy; thoughtful handles that securely hold the included wooden spoon and Hot Grips; and tall sides that help reduce the amount of oil splatter if you're frying meats or veggies. Best of all, though, is that the Cast Iron Perfect Pot is gorgeous enough to be an heirloom piece — take it straight from the oven to the dinner table, then pass it down for generations. (It's quality cast iron, so chances are, it'll outlive us all.) 
So, if you're looking to cop your first piece from Our Place, or you're just eager to expand your collection, this is a must-have item — but hurry and add-to-cart ASAP, since this limited stock won't last long.