Best Outdoor Fire Pits & Fireplaces: 10 Sources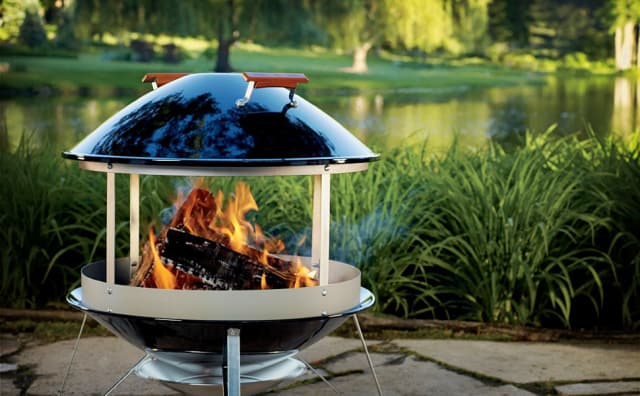 If you're lucky enough to have a backyard, an outdoor fireplace is a great investment for entertaining. Think s'mores, hot dog roasts, or even just cool nights spent gathered around the fire.

Fire pits generally come in three main types: wood burning (the most popular and usually the least expensive), gas/propane (a less smokey option that's pricier), and gel or ethanol (which creates a smokeless, odorless flame). Expect to pay between $100 and $300 for a good wood-burning fire pit, and more for a propane model. Designer brands can cost anywhere from $1,500 to $10,000.
A. J. Madison
Weber has an inexpensive new woodburning outdoor fireplace that ranges from $120 to $140 (depending on the source). Made from steel with a porcelain/enamel finish, it's 29.5 inches in diameter.
• Shown: Weber 2726 Wood Burning Fireplace, $119
Lumens
This lighting store carries a few modern styles, including gel fire pits from Blomus. Made from frost-proof ceramic and polished stainless steel, this version is available in large (12.6" d) and small (7" d) sizes.
• Shown: FUOCO Tabletop Gel Firepit by Blomus, $83 - $119
Sears
A good source for affordable basics, Sears has several decent looking wood-burning fire pits, including this hammered copper version from Woodstream, 30 inches in diameter.
• Shown: Woodstream SH101 Hand-Hammered Copper Fire Tub, $270
HomeClick.com
A good online source for outdoor lighting, HomeClick carries modern and traditional fire pits. Made of pressed and stainless steel, this wood-burning HotSpot measures 25 inches in diameter.
• Shown: Well Traveled Living 60451 HotSpot Urban 650 Fire Pit, $150
Woodland Direct
This online store specializes in outdoor fireplaces, and they carry wood-burning, gel, gas, and propane models, as well as accessories and DIY firepit kits.
• Shown: Asia Fire Pit, starting at $790
EcoSmart
This is an Australian company that makes ventless fireplaces fueled by bio-ethanol. The orange-colored flame is smokeless and odorless. Their outdoor fireplaces range from $2,000 to $10,000.
• Shown: EcoSmart Dish Fire Pit
Unica Home
A source for high-end designer fire pits, Unica carries Extremis, Ore, Blomus, and other modern brands. This is Gandia Blasco's modern stainless steel fire pit, 20 inches in diameter.
• Shown: Gandia Blasco Brasero Modern Outdoor Fire Pit, $1,100
Design Within Reach
They carry the classic Malm fireplace, a mod wood-burning, indoor/outdoor fireplace made in Sonoma County, California. The iconic form has an arc-shaped pit and a tall flue.
• Shown: Malm Fireplace, starting at $1,500
Crate and Barrel
In the summer, they have a nice selection of outdoor basics, including this iron wood-burning fire pit with a protective mesh lid. Raised up on legs, it measures 28 inches square.
• Shown: Black Square Firepit, $199
TigerDirect.com
This online retailer stocks several basic fire pits, including the Landmann Halo, a wood-burning model with a black steel bowl. It measures 23.5" in diameter, and it's lightweight at just 16 pounds.
• Shown: Landmann 28240 Halo Fire Pit, $70
Apartment Therapy supports our readers with carefully chosen product recommendations to improve life at home. You support us through our independently chosen links, many of which earn us a commission.