This Chef-Grade Stainless-Steel Pan Makes Weeknight Meals a Breeze (and Saves Me From a Sink Full of Dishes!)
We
independently
select these products—if you buy from one of our links, we may earn a commission. All prices were accurate at the time of publishing.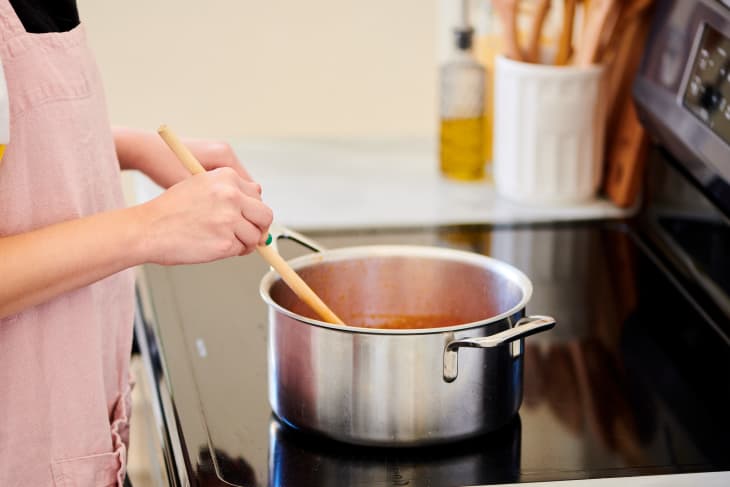 You know when you're scrolling Instagram or TikTok and a "one-pot meal" that looks ridiculously good comes on your feed? We've all been there: You're a little skeptical that the dish you're looking at really only dirtied one pan or pot, but you're trying to be a little more optimistic these days, so you let the gentle, ASMR-ish intro play out only to have your hopes dashed when the influencer with the way-too-nice kitchen starts the video by whipping out a Vitamix, a pasta maker, and a mandoline. Now, technically, they did only use one pot, but what they're really ending up with is a bunch of dirty kitchen appliances, which defeats the purpose of a one-pot meal — such a drag! All of this is to preface, though, that actual, delicious one-pot meals do exist, and all you need to do to make them is invest in the right piece of cookware.
At AT, we're huge fans of enameled Dutch ovens, heritage cast-iron cookware, nonstick skillets, and bakeware that could double as home decor. The only issue with these items is that you sort of have to baby them. You need to follow a strict cleaning and seasoning regimen with cast iron, you can only use certain utensils on nonstick surfaces, and you have to be careful not to chip anything that's enameled. But, for weeknight meals and general, everyday cooking, what you need is a simple, sturdy piece of cookware that you can clang, bang, and toss around without worry. I give you: the OXO Tri-Ply Stainless Mira Series 3.3 Qt Sauté Pan.
OXO is an AT editor-favorite, and for good reason — pretty much all of their products are reliable, affordable, and high-quality. This do-it-all kitchen workhorse is no different, and is made using two layers of stainless steel with a heat-radiant aluminum core, which means it heats evenly and won't scorch or burn parts of your dish. It also features stain-resistant finish with "evershine technology," which helps prevent heat discoloration. And, it's built to last, with rivets that are flush with the interior of the pan, meaning a) your sponge or dishcloth won't snag on them when you're washing it, and b) you never have to worry about the handle coming loose.
I personally love this thing because it's oven-safe up to 600 degrees Fahrenheit, which means you can start a dish on the stovetop, and finish it under the broiler. (It's also fine to use with metal tools and dishwasher-safe — if you're Bill Gates and, you know, own a dishwasher.) The high walls and tight-fitting lid mean it's good to go for everything from fall braises and boiling pasta to cooking fluffy rice, sauteing veggies, and more. (I've even roasted a small chicken in this thing.) My favorite thing to use this for, besides one-pot meals, is meal prepping. Since it holds up to 3.3 quarts, I just sear off some meat, add veggies, deglaze with stock and crushed tomatoes, cook a pack of noodles in the sauce, and voila — lunch for the next three days is served. The best part? I'm not left with a sink full of dishes, and if there's anything stuck to the bottom of the pan (which there usually isn't), I can just take a metal bench scraper to it without worrying about ruining the metal.
So, if you're in the market for a pan you can always use (wink; IYKYK), but don't want to shell out for an exorbitantly expensive model that might not even last you through the holidays, snag this OXO Tri-Ply Stainless Mira Series 3.3 Qt Sauté Pan and enjoy stress-free weeknight meals.