12 Packing Shortcuts That Will Save You Time and Money
We
independently
select these products—if you buy from one of our links, we may earn a commission. All prices were accurate at the time of publishing.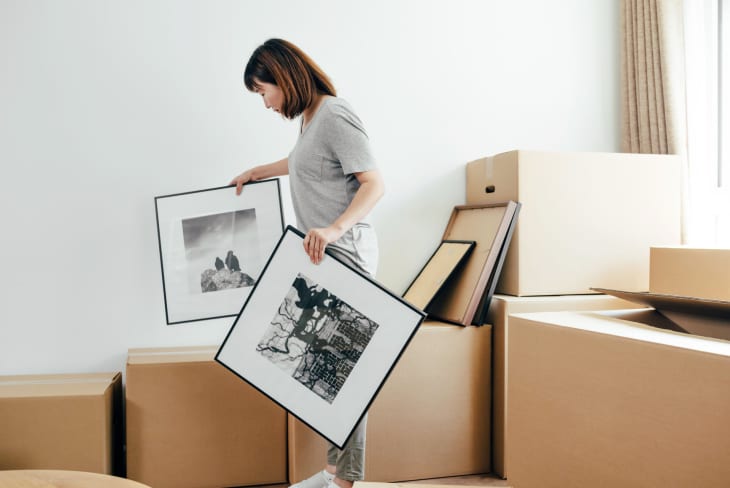 We're not going to sugar-coat it: Moving is the worst. There's nothing fun about having to play Tetris with your belongings and all the clutter that comes with it, only to have to unpack it all a day later. And while there is no magic solution to getting around packing—other than paying an arm and a leg for a moving service—there are some shortcuts that can make the process a little easier. Not only will these tips take a few steps off your checklist, but they also might just cut down on the number of boxes you'll have to unload after.
1. Stock Up on Storage Bags
Instead of removing your clothes from their hangers, poke a hole in the bottom of a garbage bag and thread a fair amount of pieces through the top. Alternatively, you can use a garment bag or even a vacuum-seal one to be more sustainable. When you get to your new place, just take the clothes out, and they're ready to hang!
2. Keep Your Clothes in Drawers
Spending hours folding clothes and placing them back into the same dresser once you're in your new house seems inefficient, so skip that step altogether. Take out the drawers from your dresser and cover them in plastic wrap or with a large bag. This way, the dresser will be light enough to move, thanks to the absence of the drawers. And you can pop them back in once you're set up in your new space.
For hard-to-carry-items, like books, use suitcases to transport them instead of boxes—it's easier to roll them than to lug them. Use small carry-ons for better weight distribution; with larger suitcases, you run the risk of overpacking, ending up with a load that's too heavy to carry.

If you're working with cardboard boxes, remember: A good rule of thumb is to use small containers for heavy items and large ones for the lighter things. This way, you won't pull your back trying to lift something that weighs 100 pounds. 
4. Pack a "First-Night" Box
This one is a game changer. Pack a box with all of the essentials you might need during the first night in your new home. Pajamas, toiletries, melamine plates, and pillows is a great starter list, but feel free to add whatever creature comforts speak to you. When you're exhausted and cranky from the long day of moving, the last thing you want to do is rummage through boxes to find all of your staples. 
5. Plastic Wrap Your Utensil Holder
Rather than having to put all of your flatware back into their containers or a new box designated for the kitchen, just wrap the entire holder. Consider it one less item you'll have to unpack and organize.
Sharp-edged objects and furnishings almost always get banged up in a move, regardless of how careful you are. Use dollar store pool noodles or bubble wrap to encase and protect mirror frames, art, tables, and desks.
Instead of labeling boxes by room, designate a color for each room so that you can visually sort through the mass with ease. Number the units for each space—i.e. box 1 out of 4—so you can keep track of that as well.
Laundry baskets make for an ideal makeshift packing crate. Use them to transport everything and anything from clothes and small appliances to bath towels and bedsheets.
Instead of individually wrapping every piece of dinnerware you own, use foam plates between the fragile ones to cushion them. Not only does it protect them, but it also saves you a wealth of time when packing and unpacking.

Pro tip: You can also go to the liquor store and ask for the boxes bottles come with and use them to store your glasses and stemware.
Use lidded pots to transport dry ingredients from your cupboards or the pantry, like spices, oatmeal, rice, canned veggies, and so on. It will significantly decrease the number of boxes you're using, and it will provide a sturdy encasing to boot.
11. Use Your Clothes As Packing Material
Put socks over thin drinking glasses, use your sweaters to wrap breakables, towels to wrap bigger items, drape sheets and blankets over furniture, and so on. Rather than wasting money and resources on packing materials, recycle what you have at home to cushion and protect your items.
12. Put Cables in Toilet Paper
Keep cables and cords perfectly tamed by storing them in upcycled toilet paper rolls. Label each piece of cardboard with the name of the cord inside for easy organization.