Paint Palettes from Vacation Inspiration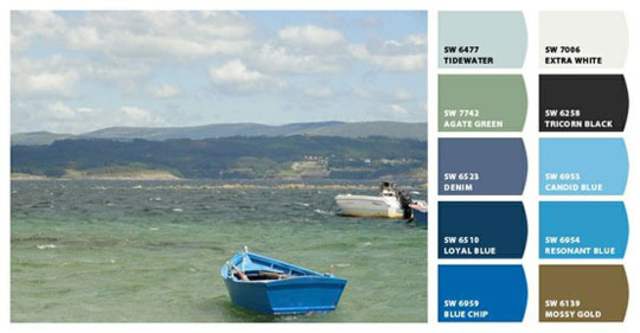 You can find color inspiration in the most random summer sights, from Independence Day fireworks to a bright beach umbrella. But it's when traveling that our eyes are most open to new inspiration.
That's why we joined with Sherwin-Williams to present the Chip It! Challenge. Chip It!™ by Sherwin Williams® is a
We challenged our readers
to chip their favorite vacation photos and then pin it on Pinterest. Sherwin-Williams has been re-pinning their favorites onto their
Chip It! board
, and people have been pinning and 'liking' their favorites.
We've been thrilled with the extraordinarily beautiful photos you all have taken, and love seeing how travel shots — which can capture such meaningful personal memories — can be translated into practical ideas for interior design!
Check out the Chip It! board on Pinterest and
pin your favorite vacation palettes!
Some of our favorite chipped photos were ones that captured either a broad range of colors or a nuanced set of hues. We loved the contrast between a sunset in Fiji and a sunset in Florida, a boat on the water in Cape Cod and a boat on the water in Spain. Which do you like the best? Let us know below in the comments!


Images:
1
Fisterra, Spain, via
@Emily Long
;
2
Cape Cod, Massachussetts, via
@Kathy Harrison
;
3
Sunset in Fiji, via
@SarahBelle Studio
;
4
Sunset in Sandestin, Florida, via
@Melissa G
;
5
A beautiful Egyptian honeymoon via
@Shel
;
6
Seven Mile Bridge in the Florida Keys, via
@Rachel Conant
;
7
New York City, via
@Crystal Wells
;
8
Flower market in Amsterdam, via
@Nancy McCarley
;
9
Shibuya Crossing, Tokyo, via
@Shel
;
10
Prague, via
@Leigh Darilek
.