Paloma and Olivet's Shared Space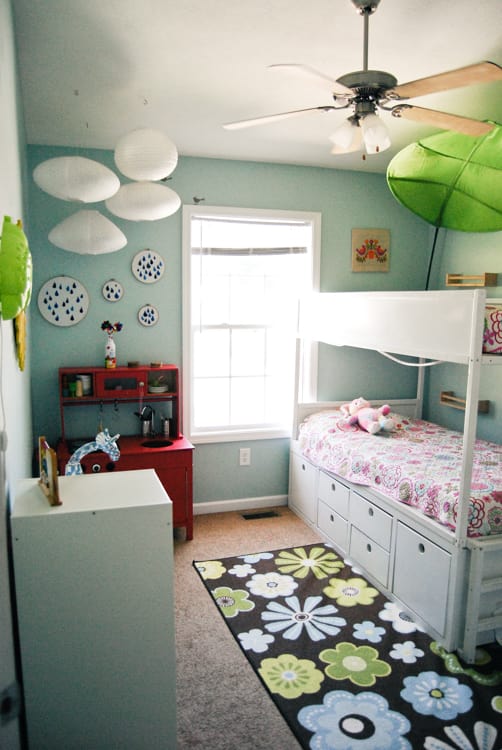 Name: Paloma and Olivet
Location: Bloomington, IN
Our girls are close in age, and so it has been very natural for them to share a room. We had two small beds in this room, but as they began outgrowing toddler beds we started looking for a bunk bed solution.
We found some ideas online and asked their handy Grampa to build this bed. It is modeled after the IKEA Kura reversible bed, with the drawers added at the bottom, and it is shortened a little so the top bunk is not too high (ceiling fan!). It eliminated the need for dressers - their clothes go in the small drawers and there are toys in each of the bigger drawers. Having the window in the middle of the room means there are not as many options for placement of the bed, but this has worked well.
We limited toys to the drawers under the bed and whatever will fit into the IKEA Trofast frame we purchased. This has been very helpful in having a concrete limit for what to keep and what to give away. The play kitchen was also built by Grampa as a Christmas gift and outfitted with various hardware found at the Habitat for Humanity Restore.
Thanks, Jenna!
(Images: Reader Jenna)