Could Pantone's Color of the Year BE Any More of a Friends Throwback?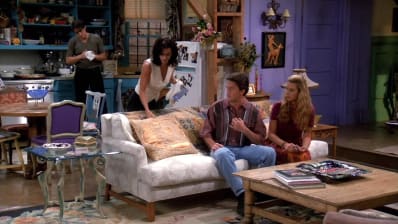 (Image credit: NBC)
We've applauded Monica's cleaning skills, she's clearly got some great cooking skills, now its time for her interior design skills to get a little shine (or Monica's grandmother's interior design skills). If Pantone's 2018 Color of the Year looks familiar, then you must be a Friends fan.
Kudos to lmshelly's fortune telling skills, because Monica Gellar purple aka Ultra Violet IS the color of the year!
Yes, the apartment itself was crazy expensive and eventually explained away by the grandmother-sublet situation, but the interior design itself felt accessible and affordable while still aspirational (who finds that many boldly upholstered dining chairs? Clearly someone was a DIYer). The mismatched overstuffed furniture and the funky picture frames gave the apartment that enviable yuppie boho feel, but the comfy, flea market chic look of the place was all tied together by the bold colors, especially the Ultra Violet wall.
We are admittedly in the midst of a '90s resurgence, and while some of the fashion and a lot of the jokes from Friends haven't aged particularly well, the purple wall still looks stylish. Perhaps it's because it was always such a bold choice, it never really got tied to a particular decade. Congrats to Monica, for finally taking her rightful place in the pantheon of stylish sitcom characters.
Would you rather paint your wall Ultra Violet or get 'The Rachel' haircut in 2018?