Here's How to Watch the Longest Partial Lunar Eclipse of the Century This Week
We
independently
select these products—if you buy from one of our links, we may earn a commission. All prices were accurate at the time of publishing.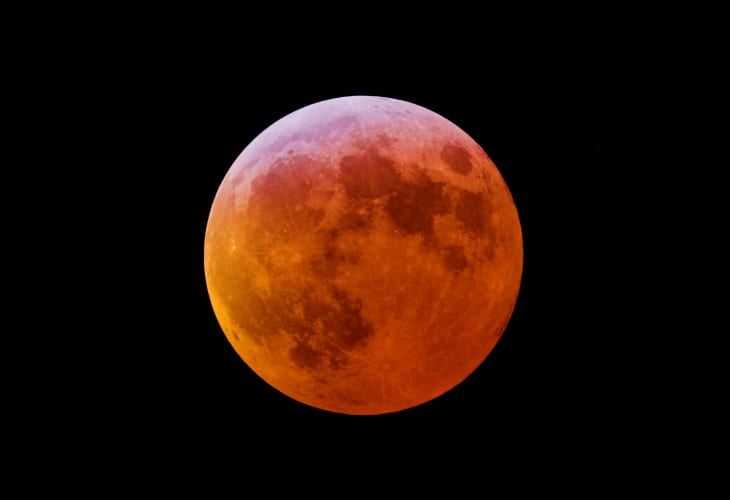 On Nov. 19, the moon will slip into the shadow of the Earth entering into an almost total lunar eclipse — and it's the longest partial lunar eclipse we'll see this century.
According to NASA, an "almost total eclipse" happens when the sun, moon, and Earth align so that about 99.1 percent of the moon is darkened by the Earth's shadow, or umbra. The peak of tomorrow's eclipse will occur at 4:03 a.m. ET during which the moon will appear to be a dark red shade.
But the most impressive part of tomorrow's lunar eclipse is that it will last for about three hours and 28 minutes — that's the longest partial lunar eclipse humans have seen in 580 years, according to Space, and we won't see another partial lunar eclipse this long until the 2100s.
What makes this partial lunar eclipse also extraordinary is that the moon will be full come Nov. 19, so the red shade from the Earth's umbra will be extremely visible (save for a small sliver of silver where the moon isn't shadowed by the Earth).
NASA reports that the partial lunar eclipse will be visible across all of North America early tomorrow morning, and late tonight depending on your region. And even some parts of South America, Australia, Polynesia, and northeast Asia will get to see the eclipse in action. The western U.S. may have the best view during the eclipse's peak, but the reddish hue should be visible across North America (just make sure you don't have any buildings or other distractions blocking your view).
Set your alarm for early tomorrow morning and look up to witness astronomical history in the making.