Patrick's Rural Agrarian Roots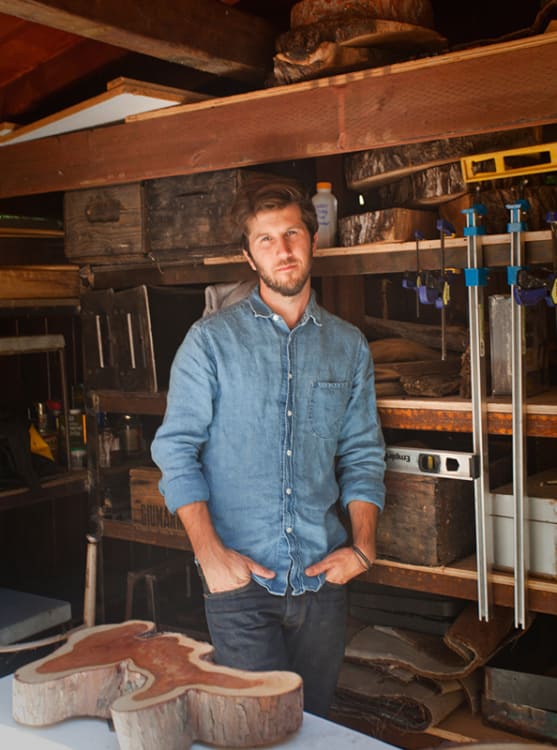 Name: Patrick Cain, Furniture designer
Location: Culver City; Los Angeles, California
Size: 420 square feet
Years lived in: 6 years; rented
Patrick Cain loves wood. His home is full of his handmade furniture pieces, and he can detail the history of each one. This is just part of the experience I suppose, when you are a furniture designer. Patrick has transformed this modest, cozy guest house into a beautiful and functional display of his very own creations.
Patrick discovered his love of furniture design after a recent breakup. Making furniture, he found, was a great way to channel his frustration and sadness into something positive. Though design is his main love, he wears many hats. "I like to say I've done every job from nuclear materials engineering to hair modeling."
When I first came over to scout Patrick's house, it looked entirely different. He warned me that I'd have to use my imagination to envision what it would look like in a month. And here we are, one month later — Patrick has painted the walls, ripped up the carpet, finished a few new tables and a desk. All that, and he completed an entire work shed out back. He feels lucky to have this kind of space available to him in Los Angeles, and to be able to live and work in the same place. "I grew up lower middle class, with parents that worked their way to the upper middle class end. But that's instilled a real frugality and cost conscious side. Living in LA constantly reminds me that others can afford it; others do want that extra step that may double the price. The LA way of life has taught me to serve not only clients like myself who are less affluent, but also give options for those that want something above and beyond anything I could dream of owning."
Although there's lots to love about Patrick's home, the things he most treasures are the ones that remind him of people he loves. When I asked what was the most single most significant thing in his home, he responded: "If it had to be just one, it'd be my grandmother's ravioli press that I hang on my kitchen wall. If it could be a collection, then, I have three small pieces from my sister, Sarah Cain, who is a highly accomplished artist represented by Anthony Meier Fine Arts out of SF and Honor Fraser here in LA and Galerie LeLong in New York."
Other than these nostalgic treasures, Patrick believes in entertaining, and making his home a place where friends feel comfortable. "The most important part is where you'll have your dinner party, be it the living room, kitchen, or dining room. Wherever people congregate is where I want to spend my attention."
Welcome!
Apartment Therapy Survey:
My Style: Rustic contemporary.
Inspiration: A mix of the unavoidable urban, industrial lifestyle that is Los Angeles with my rural agrarian roots.
Favorite Element: On my wall, above the Patrick Cain Designs Antigua-style table, I have a PCD Rizza Jane wall piece. The Rizza Jane is a slice of what was once the largest Denali Eucalyptus in North America. This tree was a city of Santa Monica Historic Landmark until it had to be cut down because there was a rotten core inside the tree that ruined its stability. Despite its immense beauty and some public protest, the landmark had to come down. Today, these are the last remnants of what was a 140 ft-tall, 99-year old tree that could have been saved if only its sickness was addressed earlier in its life. Fans of the Rizza Jane can find two more on my website, and one in table form, called the Magno. This wood is just incredible, and it carries a personal story for me, that helps me remember what is good and what is bad. In this wood, I stay grounded.
Biggest Challenge: The biggest challenge for me is designing in a place that isn't mine. There's only so much time, effort and money I want to toss into another person's investment. Not to mention, the property where I live has a very specific aesthetic, which isn't the same as mine. Trying to create a seamless flow from indoors to outdoors when merging my rustic contemporary with my landlord's new age Japanese garden look was tricky.
What Friends Say: Inevitably, every time a new friend comes over they want to know if I can make them a dresser like the Cleveland dresser I have in my living room. The welded steel frame with actual farmers market apple boxes is a gem and is one of my favorite pieces. Soon I plan to start making these — or something similar — in larger quantities. I have a few friends who have seen this apartment undergo two large redesigns, one after my divorce a few years ago and one after a breakup last year. Each redesign gets bigger and bigger. There better not be another big breakup or I'll have to rebuild a whole wall or add a second story, at this rate.
Biggest Embarrassment: Probably my floors. While they came out okay, I really wanted to do a polished concrete, but after removing two layers of flooring I found dried old tar, which would have been both a nightmare to remove, and carcinogenic. So, rather than doing that I sealed it all in with an epoxy seal paint. I hate and am embarrassed by whenever I can't see a vision out to completion.
Proudest DIY: There are two pieces of wood hanging on my wall, the Rizza Jane and the Brooklyn. The Brooklyn is a design I haven't seen anywhere else and is perfect for a small place like the one I live in, or, say, any place in New York City. When you lift the wood off its hanging hooks, three hairpin legs flip out to make the once wall art into a functional side/end/coffee table.
Biggest Indulgence: I live incredibly frugally. There's nothing in my house I spent over $500 on. The biggest indulgence would simply be keeping the Cleveland dresser, Antigua table, and Rizza Jane wood wall art for myself. While there will be others, these first generation Parick Cain Designs pieces stay with me, even though I could sell them.
Best Advice: Fail and fail often. Falling into success teaches nothing. Fucking up creates a necessity for success and, in the words of my Calculus 1 professor, "necessity is the mother of invention."
Dream Sources: My dream sources are all around me everyday. Recently I got a number of slabs from downed trees in the Los Angeles Zoo. That in itself seemed like a dream: upcycled wood from the LA Zoo, how great is that?! But for the future I'd like to source from people's backyards, simply because your own downed tree, turned into your table/bench/etc, would carry all the more meaning and significance to the buyer. Giving meaning and significance should be the end goal of any product one sells.
Resources of Note:
PAINT & COLORS
Dunn Edwards – Muslin, Fine Grain
AROUND THE HOUSE
Wall-art-folding-wood-slice table, The Brooklyn: Patrick Cain Designs
Antigua Dining Table: Patrick Cain Designs
Cleveland Dresser: Patrick Cain Designs
Rizza Jane Wall Art: Patrick Cain Designs
Maps : US Geological Survey
couch: some place in culver city

Thanks, Patrick!
(Images: Bethany Nauert)
• HOUSE TOUR ARCHIVE: Check out past house tours here.
• Interested in sharing your home with Apartment Therapy? Contact the editors through our House Tour Submission Form.
• Are you a designer/architect/decorator interested in sharing a residential project with Apartment Therapy readers? Contact the editors through our Professional Submission Form.